Winter 2014
(Jun-Aug)
Mr Feist Recommends ...
Had a lady from Oz (kangaroo, not Emerald City) as me about other series and books I can recommend.
I don't comment on contemporaries, because none of them write like I do. George R.R. Martin would probably write lousy Feist, just as I would write lousy Martin. Each author has a unique voice and its that voice that appeals to you or not. And you don't need me to recommend current writers, because they are recommended all over the place on fantasy review blogs everywhere, "best of lists," reading clubs, etc.
Now, I will however recommend some people who I found wonderful, who you might not have read because they stopped writing some time ago. When I was a kid, I loved "boys adventure" a category that really no longer exists. These "adventure" novels were what we had going before fantasy became the rage.
Going back farthest was Sir Walter Scott. Ivanhoe is a great book, so is Castle Dangerous (same war as Braveheart), and The Talisman (Third Crusade). The writing style is very different than modern writers, but if you can get into it, highly recommended. Robert Louis Stevenson, Kidnapped, Treasure Island, David Balfour (also titled Catriona), and my all time favorite The Black Arrow (influenced Martin Longbow's character) and he wrote a very funny comic novel, The Wrong Box--not remotely related to fantasy or adventure, but really funny.
R.E. Howard--specially his Solomon Kane stuff. Howard was one of the very first pro-feminist action/pulp adventure writers. He gave us Dark Agnes de Chastillion in
Sword Woman
, a pirate named Helen Tavrel in
The Isles of Pirates' Doom
, names you might recognize Bélit the Pirate Queen (
Queen of the Black Coast
), Valeria of the Red Brotherhood (
Red Nailes
) and Red Sonja of Rogatino in
Shadow of the Vulture
. BTW, Sonja in the book is not a "chick in chain-mail" as depicted in the Conan Marvel comics and movies.
Red Nails
and
Rogues in the House
are the two Conan stories any fantasy fan or writer should read.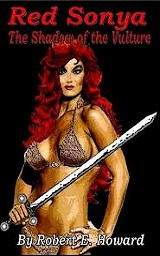 Fritz Lieber. His Fafhrd and the Gray Mouser series may be the biggest single influence on my writing as far as how to move a story along and do punchy prose. Wonderful, nasty, pragmatic characters in terrific stories.
Roger Zelazny: Lord of Light was a huge influence on my depiction of the gods of Midkemia, though his were humans with huge technology, but I borrowed "Kalkin" from him as an alternate name for Ban-ath. Nice Princes in Amber is great, but I felt the series started to decline with Guns of Avalon. Roadmarks was brilliant, as was Doorway in the Sand. Brilliant writer taken from us far too young.
And one guy who's still writing, Michael Moorcock. The Valheru were influenced by his Elric of Melniboné stories. Not so much in style, because the Melnibonians had an ordered culture, and the Valheru were chaos embodies, but the concept of an "elder" race and the "younger races" really resonated so I cribbed that. His vision is vast, as vast as any author I've ever encountered. He approaches the concept of The Eternal Champion from several different directions, in as many as four different and unique series of books, starting different heroes in different universes, but who are at heart essentially the same person. And in one book, Sailor on the Sea of Fate, brings them all together. Wonderful stuff if you are familiar with the other work; I can't recommend it enough.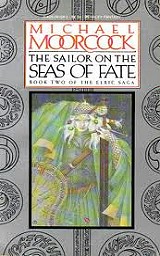 To me, the closest analogy I can give you is music. My son, a young lady friend of mine, and a few others I know many years my junior, listen to all the modern music, but they also listen to the Rolling Stones, the Who, Lynrd Skynerd, Beach Boys, etc. because they hold up with time. Because they're good.
So, if you can't find something brand new on the shelves, may I suggest you seek out some "oldies, but goodies?"
(Reprinted by permission June, 2014
Raymond E. Feist answers The Usual Questions
Official Raymond E. Feist website
---
New series in the Series Series
The Kate O'Hare/Nick Fox series by Janet Evanovich and Lee Goldberg.
---
The Usual Questions Project


Charlaine Harris answers The Usual Questions
Michael Hiebert answers The Usual Questions
J Carson Black answers The Usual Questions
Robert Gregory Browne answers The Usual Questions
Michael Pryor answers The Usual Questions
Ellen Datlow answers The Usual Questions
F. Paul Wilson answers The Usual Questions
Joanne Harris answers The Usual Questions
Max Booth III answers The Usual Questions
Jim C. Hines answers The Usual Questions
Kevin J. Anderson answers The Usual Questions
J. D. Rhoades answers The Usual Questions
Don Webb answers The Usual Questions
James Walley answers The Usual Questions
Tom Trumpinski answers The Usual Questions
Jeffrey Thomas answers The Usual Questions
Marta Salek answers The Usual Questions
Robert Greenberger answers The Usual Questions
Cara Brookins answers The Usual Questions
Janeen Webb answers The Usual Questions
Raymond Benson answers The Usual Questions
Joanne Anderton answers The Usual Questions
Sanet Smit answers The Usual Questions
Satima Flavell answers The Usual Questions
Graham Masterton answers The Usual Questions
Andrew J McKiernan answers The Usual Questions
Jeremy Davies answers The Usual Questions
Karen Dionne answers The Usual Questions
C. S. Burrough answers The Usual Questions
Gillian Polack answers The Usual Questions
Ged Maybury answers The Usual Questions
Brad C. Hodson answers The Usual Questions
Gillian Polack answers The Usual Questions
David Dunwoody answers The Usual Questions
Felicity Pulman answers The Usual Questions
Alan Baxter answers The Usual Questions
Royce Bond answers The Usual Questions
Lou Antonelli answers The Usual Questions
Margaret Clark answers The Usual Questions
Elaine Ouston answers The Usual Questions
Margaret Blake answers The Usual Questions
Adam Wallace answers The Usual Questions
Amy Sterling Casil answers The Usual Questions
K. Ceres Wright answers The Usual Questions
Tania McCartney answers The Usual Questions
Bevan McGuiness answers The Usual Questions
Laurence O'Bryan answers The Usual Questions
Kristine Kathryn Rusch answers The Usual Questions
Robert N. Stephenson answers The Usual Questions
Rebecca Cantrell answers The Usual Questions
K J Taylor answers The Usual Questions
Simon Williams answers The Usual Questions
Craig DiLouie answers The Usual Questions
B. L. Morgan answers The Usual Questions
Michael Marshall Smith answers The Usual Questions
Robert Dunbar answers The Usual Questions
Milton J. Davis answers The Usual Questions
Susanne Gervay answers The Usual Questions
Bob Freeman answers The Usual Questions
Michael (Mick) Sims answers The Usual Questions
Louise Marley answers The Usual Questions
Molly Oldfield answers The Usual Questions
Russ (R. G.) Crossley answers The Usual Questions
David Rex Bonnewell answers The Usual Questions
T. G. Arsenault answers The Usual Questions
Michael Yowell answers The Usual Questions
Jennifer Caress answers The Usual Questions
Ian Welke answers The Usual Questions
Robert Stava answers The Usual Questions
Andrew Plant answers The Usual Questions
Linda Jordan answers The Usual Questions
Jack Conner answers The Usual Questions
Paul Kane answers The Usual Questions
Ira Nayman answers The Usual Questions
Deborah Abela answers The Usual Questions
Ty Schwamberger answers The Usual Questions
Jeffrey J. Mariotte answers The Usual Questions
K. Z. Morano answers The Usual Questions
Lauren B. Davis answers The Usual Questions
Stephen Graham Jones answers The Usual Questions
Brian Knight answers The Usual Questions
R. Scott McCoy answers The Usual Questions
Gemma Files answers The Usual Questions
J. G. Faherty answers The Usual Questions
Melia McClure answers The Usual Questions
Richard Thomas answers The Usual Questions
Jason Brawn answers The Usual Questions
Alyx Dellamonica answers The Usual Questions
Juliet Marillier answers The Usual Questions
Sarah Langan answers The Usual Questions
Kim Paffenroth answers The Usual Questions
Keith Minnion answers The Usual Questions
Chris Morris answers The Usual Questions
Selena Robins answers The Usual Questions
Morgan Sylvia answers The Usual Questions
L. L. Soares answers The Usual Questions
Peter Mark May answers The Usual Questions
Jay Caselberg answers The Usual Questions
Ronald Kelly answers The Usual Questions
Rhys Hughes answers The Usual Questions
Vince Churchill answers The Usual Questions
T. M Knight answers The Usual Questions
Sandra Kasturi answers The Usual Questions
Karen Heuler answers The Usual Questions
Errick Nunnally answers The Usual Questions
Laurence Klavan answers The Usual Questions
Wednesday Lee Friday answers The Usual Questions
Tony Baker answers The Usual Questions
John Langan answers The Usual Questions
Howard Andrew Jones answers The Usual Questions
Ronan Jackson Jefferson answers The Usual Questions
Christy K. Cagle answers The Usual Questions
Kody Boye answers The Usual Questions
Chris McMahon answers The Usual Questions
Joe R. Lansdale answers The Usual Questions
Gordon Van Gelder answers The Usual Questions
Joe L. Murr answers The Usual Questions
Daniel Ribot answers The Usual Questions
Maria Alexander answers The Usual Questions
Julie Fison answers The Usual Questions
Simon Kurt Unsworth answers The Usual Questions
Carson Buckingham answers The Usual Questions
A. Henry Keene answers The Usual Questions
Tim Waggoner answers The Usual Questions
Bryan Cassiday answers The Usual Questions
S. S. Michaels answers The Usual Questions
Patrick Freivald answers The Usual Questions
Wayne Simmons answers The Usual Questions
Hal Bodner answers The Usual Questions
Marc Blake answers The Usual Questions
G. G. Silverman answers The Usual Questions
Nate Southard answers The Usual Questions
Richard Dean Starr answers The Usual Questions
Richard Alan Scott answers The Usual Questions
Carol Weekes answers The Usual Questions
Suzie Bruce answers The Usual Questions
Alana Matthews answers The Usual Questions
Laken Cane answers The Usual Questions
Peggy Wheeler answers The Usual Questions
T. E. Grau answers The Usual Questions
Rod Labbe answers The Usual Questions
David North-Martino answers The Usual Questions
Jennifer R. Povey answers The Usual Questions
J. Lincoln Fenn answers The Usual Questions