---
---
J Carson Black
answers the Usual Questions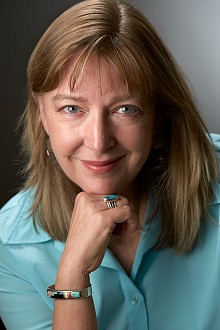 J Carson Black is an American writer of crime and thriller fiction known, among other things, for her Laura Cardinal series.
She also writes about the trials and tribulations of writing in her blog The Writing Life of J. Carson Black and Friends. Black has partnered with digital publisher Breakaway Media to publish her novels in the digital space.
Has your interaction with fans, for example, at conventions, affected your work?
I think for me, it's more the other way around. I am such a fan of other authors, and I think these authors have affected me as a writer because their books have inspired me. And as you know, authors are the nicest people.
Is there any particular incident (a letter, a meeting, a comment that stands out?
There is one, but not from a fan. An email from John Lescroart that to this day I keep in a hermetically-sealed box and only read during a full moon. It kept me going through the lean times.
Do you have a favourite author or book (or writer or film or series) that has influenced you or that you return to?
One? How could I choose one author? So many thriller and crime fiction authors have been unwitting mentors to me; I've learned from them. But the book that made me want to be a writer in the first place was Something Wicked This Way Comes, by Ray Bradbury.
Who is the person you would most like to be trapped in a lift with? or a spaceship?
Prince.
Who is the person you would most DISlike to be trapped in a lift with? Or a spaceship?
Dick Cheney.
What would you pack for space? (Is there a food, beverage, book, teddy bear, etc that you couldn't do without?)
My animals, or my husband? My animals or my husband? Wait, Man is an "animal". Problem solved.
What is the most important thing you would like to get/achieve from your work?
To be good. Really good.
What is the special satisfaction of your work?
Writing.
submitted by J Carson Black
29 June 2014
See also: J Carson Black: An Author By Any Other Name
For other answers to The Usual Questions Click here
Just the facts:
Born: Tucson, Arizona
Resides: Tucson, Arizona - didn't go far
Bibliography/Awards:
HARD RETURN: A Cyril Landry Thriller - coming September 2014 Thomas & Mercer THE SURVIVORS CLUB - Thomas & Mercer
ICON - Thomas & Mercer
THE SHOP - Thomas & Mercer
DARKNESS ON THE EDGE OF TOWN - Penguin/NAL
DARK SIDE OF THE MOON - Penguin/NAL
THE DEVIL'S HOUR (third in series - Breakaway Media)
FLIGHT 12, A Laura Cardinal Thriller (novella, Breakaway Media)
CRY WOLF (novella, Breakaway Media)
ROADSIDE ATTRACTION - Breakaway Media
5 earlier books for Kensington and Dorchester
New York Times and USA Today Bestselling Author
THE SHOP was #1 in Kindle Store (Amazon U.S.)
Awards/Scholarships
- Nominee, Daphne du Maurier Award, 2006
- Recipient of a Creative Writing Fellowship - Arizona Commission of the Arts, 2001 ($5000 and partial publication in Phoenix Magazine)
- Finalist (five of us) Arizona Screenwriting Competition, 2000--flown to LA, breakfast at the Mondrian Hotel, met with producers and development people
- Nominee, Best First Historical Romance (RWA) 1998

Web site:
jcarsonblack.com JCarsonBlack.authorpage

For posts about Melbourne events, places, news, reviews, giveaways, see our Facebook Page: