Autumn 2015
(Mar - May)
An Author by Any Other Name
by J Carson Black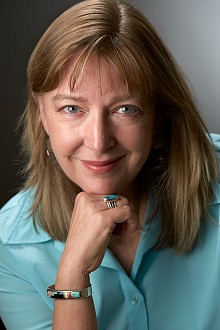 Me mum says I've always been a notice box, so, here goes. Stuff you don't know about me. (Or maybe you do?)
1. I've had four pen names. The first is my given name, Margaret Falk. The second was Annie McKnight for two historical/western romances. The third was J. Carson Black, and the fourth, which never saw the light of day, was M.J. Hawk.
2. M.J. Hawk was to be the name I'd use for my big thriller, THE SHOP. Thirty-some rejections later, eh, not so much.
3. I changed my name because in traditional publishing (New York), your name usually gets saddled with poor sales and book returns. This is because the publisher sends more books to bookstores all over the country than the bookstores will likely sell. So the bookstores don't sell all of them and schlep the remainder (called "remainders") back to the publisher when they don't sell. This creates a case of diminishing returns, which means:
4. Your name is attached to a loser of a book. So often, an author will team up with his/her agent and a new publisher to change their name and hope THIS time that won't happen.
5. I chose the name J. Carson Black for my Laura Cardinal series by thinking of my favorite authors. A lot of them were "C's": Michael Connelly, Robert Crais, Lee Child. And some were "B's." I was greedy; I wanted both. Also, I thought it might be a good idea to be at the beginning of the alphabet. I wanted something that sounded really cool, so I chose the name J. Carson Black.
6. I almost changed my name again to M.J Hawk. M.J. Hawk started out as "Maggy Hawk." Maggy Hawk is the dam of one of my favorite racehorses of all time, the great Afleet Alex, who almost fell to his knees in the Preakness, popped back up, and won going away. Why not saddle my name with that of a winner? But my agent and I thought that if I was writing a tough thriller like THE SHOP, with a kick-ass male protagonist, I should go with the initials.
Bloody thing didn't sell anyway, so I put it up on my own and was lucky that the times were not agin me. That book has paid for itself a hundred times over, and I didn't have to share it with a publisher--until later, when I was picked up by Amazon's Thomas & Mercer imprint. Moral: You never know when a curse will turn in to a blessing.
by J Carson Black
March, 2015
Reprinted by permission.
J Carson Black on Facebook
See also: J Carson Black answers The Usual Questions
---
This issue in Festivale
The Enduring Immortal Vampire
Rhiannon Frater writes: "Though vampire-like creatures have inhabited the folklore of cultures around the globe for eons, the vampire of modern literature is rooted in the pages of an Irish author's epic masterpiece published in the final years of the Victorian era. As the character of Dracula has transformed over time in other popular media (comics, films, television), the vampire has transformed alongside him."
The Good, the Bad and the Ugly: Western writing
Julia Robb writes: "if you want to read a "Western," look for a plot with a familiar ring to it. Motives differ, but most "Western" protagonists (and they are always men), seek revenge, or are out to right wrongs, or they're trying to help a girl, or a town, and all of them are good with a gun. "
---
New series in the Series Series
---
The Usual Questions Project
More authors have answered The Usual Questions, our quirky, Q and A sessions.

Anyone who is a professional can be part of the project: authors, illustrators, film-makers, performers. The Usual Questions index page has a list of the authors and film-makers and illustrators participating in the project.
People who have answered the questions in the past include Terry Pratchett, Lawrence Block, Janet Evanovich, Charlaine Harris, Tanya Huff, Harlan Ellison.
This issue, the following authors and editors and illustrators have responded:
Wendy Hornsby Pamela Sargent
Robert W. Walker
Lisa Tuttle
Lorraine Bartlett (Lorna Barrett)
Leann Sweeney
Jonathan Wood
Raymond E. Feist