---
---
Suzie Bruce
answers the Usual Questions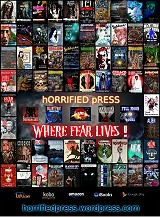 Author and publisher Suzie Bruce answers The Usual Questions on behalf of herself and her partner Bruce Lockhart 2nd.
They are heading up a new subdivision of Horrified Press, entitled Sinister Saint Press. The focus will center on YA Horror, allowing authors interested in this genre the opportunity to showcase their creative talents. This mother and son writing/editing duo are fascinated with the moldings of the "young minds", as it always has the potential for both good and evil. Sinister Saints will explore many different areas of YA Horror, through a total of four anthologies each year -- the first of each will be entitled Malice.
Has your interaction with fans, for example, at conventions, affected your work?
At present, we haven't been to any conventions. As for interaction with fans, any enthusiasm and input is welcomed and revitalizing--however, it doesn't typically affect our style of writing. The Horror Market has proven to be a welcoming home (some of the nicest people you'll ever meet), however we also stay true to ourselves.
Is there any particular incident (a letter, a meeting, a comment that stands out?
The first time we had someone (outside of our immediate circle) tell us they purchased a book of ours. It was a clerk in a local store, and knowing she spent her hard-earned money to read our tales of terror was quite a thrill!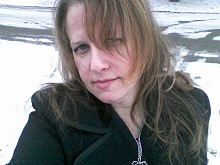 Do you have a favourite author or book (or writer or film or series) that has influenced you or that you return to?
While we enjoy a variety of fiction and non-fiction, our most influential series has, by far, been Harry Potter by JK Rowling.
Who is the person you would most like to be trapped in a lift with? or a spaceship?
Augh, can't pick just one! We would need JK Rowling for storytelling, The President to try and milk for info in his Book of Secrets, Joel Osteen for inspiration, and Rod Man to keep everyone laughing!
Who is the person you would most DISlike to be trapped in a lift with? Or a spaceship?
Anyone from FOX news.
What would you pack for space? (Is there a food, beverage, book, teddy bear, etc that you couldn't do without?)
If we had to compromise, in each category we'd select: for food, unlimited Max Pizza from New Jersey, to drink, PA Dutch Birch Beer, to read...let's go with a tablet - loaded with every book ever downloaded -- on it (=D sorry for cheating), and a blank notebook. (lol, thought we got ya with the tablet, but I guess the notebook should come with pens!)
What is the most important thing you would like to get/achieve from your work?
With what we're working on now, we have a range of things all equally important. One could argue writers write in order to make readers experience the full emotional spectrum, enabling them to actually feel the writers own emotions through a piece, but that's not all we want to aim for. We're trying to create thought provoking works that will influence and inspire future generations to expand their minds in all areas of creative ingenuity.
What is the special satisfaction of your work?
It's definitely a release. Having loved books in both our respective lives -- getting a publication to validate that something we wrote is worth reading - well, it's beyond expression.
submitted by Suzie Bruce
21 August 2014
For other answers to The Usual Questions Click here
Just the facts:
Born: Near Pittsburgh, PA--Son-HALLOWEEN! 10/31/1992. Motherr-3/14/...
Resides: Western PA. Otherwise known as Purgatory.
Bibliography/Awards:

Web site:
horrifiedpress.wordpress.com

For posts about Melbourne events, places, news, reviews, giveaways, see our Facebook Page: