---
---
Royce Bond
answers the Usual Questions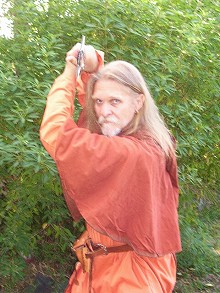 Royce is a published author and retired primary school teacher and winner of the prestigious National B.H.P. /C.S.I.R.O. Science Teacher's Award. Since his retirement, he has changed his writing to young adult fantasy novels.
Has your interaction with fans, for example, at conventions, affected your work?
Absolutely. I had one year eleven student come up to me at a recent festival and she was so excited at getting the second book of the series that she found it hard to speak. She then came up again later with some examples of her own work and asked if I would read it. It was really well done, so of course I encouraged her and she was almost in tears.
The level of excitement shown by readers encourages me to write more. The next two books in this series are already completed and I'm now working on a prequel. I'm also planning another series that will be a spin off from The Knights of Katesch.
Is there any particular incident (a letter, a meeting, a comment that stands out?
I had a very troubled young man come up to talk about my book. He was starting to write himself and also asked if I would read his work. Of course I did and I found he had a gift that wasn't recognised by others. Having taught young people like him for 22 years I was able to encourage him in the one thing that he had a passion about, the one thing that gave him meaning in his life. I won't forget his face, ever.
Do you have a favourite author or book (or writer or film or series) that has influenced you or that you return to?
I find I love C.S. Lewis and the Chronicles of Narnia as well as Tolkien and The Lord of the Rings. These two writers have created worlds that I really enjoy entering and so I try to emulate them, by creating worlds I hope my readers also want to enter.
Who is the person you would most like to be trapped in a lift with? or a spaceship?
Jesus Christ. I'm looking forward to having a chat with Him.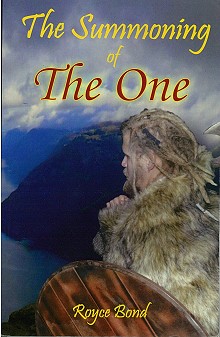 Who is the person you would most DISlike to be trapped in a lift with? Or a spaceship?
(no answer)
What would you pack for space? (Is there a food, beverage, book, teddy bear, etc that you couldn't do without?)
My wife. She is my soul mate. After her I would take my Irish tin whistle and the bamboo flutes I've made this year. I don't need batteries to make music with a flute.
What is the most important thing you would like to get/achieve from your work?
I would like to inspire my readers not only to read more, but also to try to create their own worlds and hopefully start writing themselves. I love writing because I can have the adventures I would love to have had when I was younger. I'd like my readers to have the same opportunities.
What is the special satisfaction of your work?
I really enjoy a smile on a fan's face when he/she begins reading my stories. Even better is when I hear someone gasp in amazement or chuckle as he/she is drawn into my worlds.
submitted by Royce Bond
13 July 2014
For other answers to The Usual Questions Click here
Just the facts:
Born: Brisbane. I still get as excited about new things as young people do.
Resides: Rockhampton in Central Queensland.
Bibliography/Awards:
I have a copy of this on my website.
Web site:
roycebondauthor.com

For posts about Melbourne events, places, news, reviews, giveaways, see our Facebook Page: