---
---
Robert Gregory Browne
answers the Usual Questions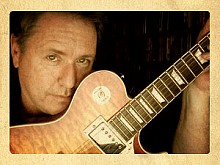 At the urging of a novelist friend, Rob tried his hand at long-form fiction and the result, a thriller called Kiss Her Goodbye, sold quickly and was later developed and filmed as a pilot for a CBS television series. In the years following his debut, Rob has written thirteen more thrillers under his own name and some top secret pen names.
Rob is the author of the Alexandra Poe thriller series.
Has your interaction with fans, for example, at conventions, affected your work?
I can't really think of an instance where it has. My process is very simple. I write the books that I'd like to read and hope others will enjoy them.
Is there any particular incident (a letter, a meeting, a comment that stands out?
The emails from readers who tell you they loved a book and it kept them up all night are always pretty wonderful. When they tell you they couldn't stop turning the pages, well, that's gratifying, because that' exactly the effect I'm hoping to have.
Do you have a favourite author or book (or writer or film or series) that has influenced you or that you return to?
I constantly return to my three literary heroes: Donald Westlake, William Goldman and Stephen King. Three very different writers whose styles and stories have shaped me. If I'm in a slump, I'll read a chapter or two from one of their works to inspire me.
Who is the person you would most like to be trapped in a lift with? or a spaceship?
My wife. We've been riding this rocket together for over thirty-five years.
Who is the person you would most DISlike to be trapped in a lift with? Or a spaceship?
I could name a few names, but I like to think I'm a little more tactful than that.
What would you pack for space? (Is there a food, beverage, book, teddy bear, etc that you couldn't do without?)
Spicy Tuna Rolls and my Kindle Paperwhite.
What is the most important thing you would like to get/achieve from your work?
To always leave the reader wanting more.
What is the special satisfaction of your work?
There are moments when you write something that seems so perfect that you get what I've always called a creative orgasm. Unfortunately, those moments are few and far between.
submitted by Robert Gregory Browne
30 June 2014
For other answers to The Usual Questions Click here
Just the facts:
Born: Many moons ago on a planet far, far away
Resides: California, US
Bibliography/Awards: ITW Thriller Award Nominee. Academy of Motion Picture Arts & Sciences Nicholl Fellowship. Best Dad in the World award.
Books:
Kiss Her Goodbye
Whisper in the Dark
Kill Her Again
The Innocent Ones
The Paradise Prophecy
Trial Junkies
Trial Junkies 2: Negligence
Co-Written with Brett Battles:
Poe
Takedown

Web site: robertgregorybrowne.com


For posts about Melbourne events, places, news, reviews, giveaways, see our Facebook Page: