---
---
A. Henry Keene
answers the Usual Questions
A. Henry Keene is an American horror writer.
Has your interaction with fans, for example, at conventions, affected your work?
I highly value feedback from readers and fellow writers but write without regard for potential praise or condemnation. Stephen King said, "Write with the door closed. Rewrite with the door open." I write with the door closed and rewrite with the door locked. I'll never write a best seller that way and that's fine. My ambition is to write something of significance.
Is there any particular incident (a letter, a meeting, a comment that stands out?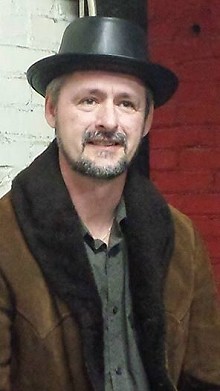 I got a little thrill when I saw a Facebook friend's picture of herself reading The Crooked Closet. Seeing that photo helped bridge the gap between us in a way that made me appreciate her time and effort. As a result, I redoubled my commitment to provide a quality reading experience.
Do you have a favourite author or book (or writer or film or series) that has influenced you or that you return to?
David Lynch is my guiding light when it comes to mood. In writing Meridiana I tried to create the kind of mystifying mood that he achieved in Lost Highway. Robert W. Chambers does the same thing with prose. He makes the most of his power as controller of information, revealing only as much as necessary and withholding as much as possible. Vonnegut and others say to get everything out there as soon as possible in order to tell the story. For Lynch and Chambers the telling is a large part of the story. They are masters of suspense. I'm not talking about cliffhanger suspense, dealing with the character's plight. Rather, I mean the kind of ontological suspense that keeps the reader wondering about the nature of the fictional universe and characters.
Who is the person you would most like to be trapped in a lift with? or a spaceship?
If I had to be trapped in an elevator with someone, I'd like it to be my University of Louisville Philosophy professor, Charles Breslin. The man was beyond brilliant and an excellent Mentor to me. He provided my introduction to Jung, who has played a large role in my life and work. As Mentor, he could see what I had the potential to do and set me on a proper path. The fact that I abandoned an academic path in favor of a grimier existence hasn't lessoned my appreciation for him or his impact on my life. I could listen to him talk endlessly and would love the opportunity to reconnect.
Who is the person you would most DISlike to be trapped in a lift with? Or a spaceship?
I would really dislike being trapped with my day job co-worker, Phil. He is a loudmouth bully, who doesn't comprehend anything but insists on expressing ill-conceived opinions and passing judgment on all things. He and I have battled in the years past. These days, I enjoy him as entertainment. In my story Justine I dealt him a fatal blow. That was fun.
What would you pack for space? (Is there a food, beverage, book, teddy bear, etc that you couldn't do without?)
I would really suffer without a computer and a decent internet connection. Without those things, I would lose connection with the community and content that support my work. I would also need an endless supply of coffee and a brew pot.
What is the most important thing you would like to get/achieve from your work?
I would like to produce work that transcends genre to pass on mythic wisdom: symbolic insights into the psychological development of the individual.
What is the special satisfaction of your work?
I love when all the ideas come together and the work aspect of the process gives way to the momentum of the story. That's when I step back and watch what happens.
submitted by A. Henry Keene
17 August 2014
For other answers to The Usual Questions Click here
Just the facts:
Born: Louisville, Kentucky
Resides: Louisville, Kentucky
Bibliography/Awards:
Various anthologies, most recent: "Best of JWK Fiction / Horror 2013"
"The Crooked Closet"
"Meridiana"
"Terror Train" Co-edited

Web site:
Facebook
Twitter: