---
---
J. Lincoln Fenn
answers the Usual Questions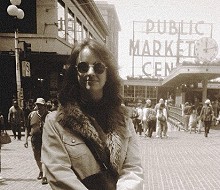 In the 7th grade J. Lincoln Fenn ended her slumber party career by converting the noise of a baseboard heater into a ghost. Now she is a horror writer.
Has your interaction with fans, for example, at conventions, affected your work?
The hardest thing about writing is that it's a lonely experience. You're sitting at your computer, writing what's in your head, then you hit save and go wash the dishes or something.
So when someone reads those words that were in your head and likes them, you feel connected, like the story isn't just yours anymore but it's theirs too. Which makes you want to come up with something even better for the next one.
Is there any particular incident (a letter, a meeting, a comment that stands out?
I had a reader who gave Poe five stars and said, "I'm not sure my soul is safe." For a horror writer, it doesn't get better than that.
Do you have a favourite author or book (or writer or film or series) that has influenced you or that you return to?
Right now I'm reading Robert Aickman who more people should know about, of course Neil Gaiman, I'm a huge Margaret Atwood fan and I've also been going back to this writer named...what was it...last name rhymes with 'hoe.' Can't think of it.
Who is the person you would most like to be trapped in a lift with? or a spaceship?
Dr. Who, for obvious reasons. If I'm choosing a real person, I'd have to pick my husband because while I would be thinking of all the ways we were sure to die he'd be scouting for tools, figuring out the controls, and coming up with a meal plan.
Who is the person you would most DISlike to be trapped in a lift with? Or a spaceship?
Dracula would suck. I think I'd also have a hard time with George W. Bush, also for obvious reasons.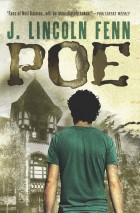 What would you pack for space? (Is there a food, beverage, book, teddy bear, etc that you couldn't do without?)
Well that's a good question because we almost had back-to-back hurricanes, so I know the answer. I started packing with my Kindle (fully charged), photo albums, laptop with charger, and Kit Kats.
What is the most important thing you would like to get/achieve from your work?
I want to take people's idea of reality and skew it slightly, in a way that creeps under the skin and lingers. Because that's what I experience, daily.
What is the special satisfaction of your work?
Whatever happens to you, no matter how terrible, can inform your work and become something else entirely. It's the realest form of magic there is.
submitted by J. Lincoln Fenn
25 August 2014
For other answers to The Usual Questions Click here
Just the facts:
Born: I was born in Holyoke, Massachusetts. Land of snow.
Resides: Hawaii. Land of sandy beaches.
Bibliography/Awards:
Poe won the 2013 Amazon Breakthrough Novel Award for Sci-Fi/Fantasy/Horror. And Jeff Bezos signed a blow-up poster of my book cover.
Web site:
www.jlincolnfenn.com
Facebook
Twitter
Goodreads
Wattpad


For posts about Melbourne events, places, news, reviews, giveaways, see our Facebook Page: