---
---
Laurence Klavan
answers the Usual Questions
New York-based Laurence Klavan writes short stories, novels and plays.
Has your interaction with fans, for
example, at conventions, affected your work?
It's made me realize that there are real people reading my books, which can be both good and bad. The guy dressed like the Scarecrow at Comic-Con: not good.
Is there any particular incident (a letter, a meeting, a comment that stands out?
When children like what you've written, it's very sweet. When adults write reviews online, it can be terrifying.
Do you have a favourite author or book (or writer or film or series) that has influenced you or that you return to?
I like the weirdness of Daphne du Maurier's short stories. I've also been influenced by the endings of the novels Mrs. Ted Bliss by Stanley Elkin and The Elementary Particles by Michel Houellebecq.
Who is the person you would most like to be trapped in a lift with? or a spaceship?
An elevator repairman. Or an experienced astronaut.
Who is the person you would most DISlike to be trapped in a lift with? Or a spaceship?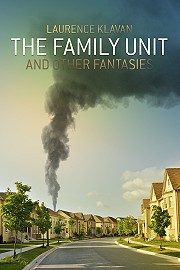 Anyone more hysterical than myself. On second thought, it might make me shape up and take charge.
What would you pack for space? (Is there a food, beverage, book, teddy bear, etc that you couldn't do without?)
Mostly prescription drugs that I don't want to name.
What is the most important thing you would like to get/achieve from your work?
When I was younger, I would have said immortality. Now that I'm older, if one day, someone wandered into the Strand (a used bookstore in NY) and got a kick out of something I wrote, that would be nice.
What is the special satisfaction of your work?
Being able to occasionally make sense/have control/get pleasure out of life.
submitted by Laurence Klavan
7 August 2014
For other answers to The Usual Questions Click here
Just the facts:
Born: Long Island, New York.
Resides: New York City.
Bibliography/Awards:
Short Story Collection: The Family Unit and Other Fantasies (Chizine, August, 2014); Young Adult Fiction: Wasteland series: Wasteland, Wanderers, Guardians, co-authored with Susan Kim,(2013, 2014, 2015, Harper Collins); Graphic Novels: City of Spies, co-authored with Susan Kim, art by Pascal Dizin (2010, First Second Books), Brain Camp, co-authored with Susan Kim, art by Faith Erin Hicks (2010, First Second Books); Mystery Novels: The Cutting Room and The Shooting Script (2004 and 2005, Ballantine Books).
Won the Edgar Award for Mrs. White, co-authored under a pseudonym (Dell Books); Brain Camp was a Junior Library Guild Selection and a Scholastic Book Fair Selection; received two Drama Desk nominations for the book and lyrics to Bed and Sofa, musical produced by the Vineyard Theater in NY and the Finborough Theater in London.
Web site:
www.LaurenceKlavan.com
Facebook

For posts about Melbourne events, places, news, reviews, giveaways, see our Facebook Page: