Totally FREE ... Downloadable Festivale Free Wallpaper
featuring images from the Pictorial Guide to Melbourne and Victoria
Wallpaper, Melbourne Botanic Gardens, Victoria, Australia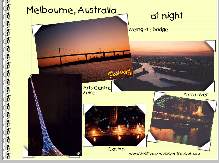 Photograph: Ali Kayn

FREE downloadable wallpaper
Some people don't scroll down to see the other wallpapers, but you will, won't you? This month's wallpaper is designed to be a CENTRE-type wallpaper.
More free stuff
This is one of the most popular pages in Festivale. If you see an image in Festivale that you think would be a great wallpaper, suggest it to us.
Images such as this appear in entries and photostories in the Pictorial Guide to Melbourne and Victoria.