<!end navbar-->
---
---
Where are we?
Festivale Maps of Victoria and Australia
Welcome to the maps section of Festivale Online Magazine's Pictorial Guide to Melbourne and Victoria, Australia.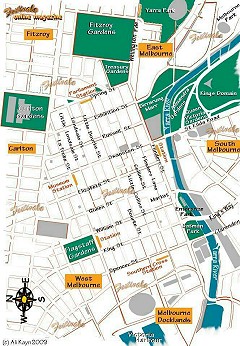 Our maps are simple, their purpose is to give you, the reader, an idea of where a site is, or how it is laid out.
Most of our maps are clickable, you can drill down (zoom in) to further detail, or perhaps see images.
Our maps enable us to show you photographs from our visits to the various tourist attractions, historical sites and public parks around Melbourne and Victoria, photos that we might not be able to put on our photostory pages or on our database pages
You can drill up (zoom out) to get an idea of where a place is, for example, from Rippon Lea's map you can click on various points of interest to see photographs. Zooming out with the margin arrows, or the buttons at the top of the screen, and you can see where it is in relation to Saint Kilda and the Melbourne Central District (or do they call it a precinct now?)
Zoom out again to the Melbourne Environs map and you will see some of Melbourne's major parka and gardens in relation to the Melbourne centre, and again, to see where Melbourne is in the state of Victoria, and yet again to see where Victoria is on a map of Australia.
And yes, there's more.
The maps are one of the places where you may find useful links to other web sites. If you have a suggested URL, use the link. If you find a broken URL, use the Report a Problems form link down there as well.
Why not start here, with the Map of Melbourne city.

For posts about Melbourne events, places, news, reviews, giveaways, see our Facebook Page: