Historic Sites - Inner Melbourne
Melbourne has many of the early buildings still standing, and there are many prepared walks through Melbourne to help visitors and inhabitants alike enjoy and appreciate our heritage.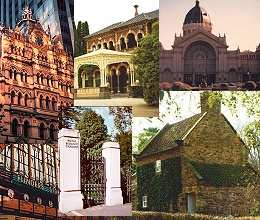 ---

ANZ Banking Museum

Exhibits tracing Australia's banking history. Housed on lower ground floor of the 'Gothic Bank'.

Opening hours and contact details see web site. Self-guided tours. Free
web site




---

380 Collins St, Melbourne
Trams 109 and 112 travelling along Collins St stop outside the museum

---

Banana Alley Vaults

Vaulted stores, many tenanted by banana merchants and fruiters, lie beside Flinders Street station under viaduct built to link Southern Cross (Spencer Street) Station with Flinders Street Station. Designed by W. H. Greene. Behind the vaults is the Yarra River, and access to the footbridge to Southbank.

---

Flinders St, Melbourne

---

City Baths (1903-4)

Designed by J. J. Clark the original design provided separate men's and women's swimming pools and private baths. The building was restored in 1980 and houses a modern gymnasium, sauna and spa bath. The first Melbourne City Baths were opened in 1860.

For opening hours and contact details see Melbourne City Baths web site




---

Corner Swanston and Franklin Streets, Melbourne. Short walk from Melbourne Central train station. Take a tram along Swanston Street towards Carlton.

---

Cook's Cottage (1755)

Yorkshire home of Captain James Cook's parents it has been rebuilt at the Fitzroy gardens. Entry fees apply.

Opening hours and contact details on web site




---

Fitzroy Gardens, Wellington Parade, Melbourne.

15 minute walk from Federation Square
Free City Circle tram -- disembark at Spring Street, Treasury Gardens stop
Tram routes 48 or 75 -- disembark at Wellington Parade, adjacent to Fitzroy Gardens
Train -- disembark at Parliament or Jolimont Stations

---

Fire Services Museum of Victoria

Located in the old head office of the Melbourne Fire Brigade and opened in 1979 to provide a home and focus for the history of fire fighting services in the Victoria. Exhibits include fire appliances, personnel histories, memorabilia and associated items.




For opening hours and contact details see Fire Service Museum web site




---

39 Gisborne St, East Melbourne. Short walk from Parliament station.
---

Flinders St Station (1901-1911)

The site has been in use since 1854, (Architects JW Fawcett and HPC Ashworth). The building, completed in 1909, and particularly it's 'clocks' are a popular landmark and meeting place.




---

Cnr Flinders St & Swanston St

---

Forum Theatre, formerly State Theatre (1927-9)

Opened in 1929, the Forum Theatre has an artificial sky, stars, clouds and neo-classic statuary designed by John Eberson and architects Bohringer, Taylor & Johnson. It was built as a mirror image of Sydney's Capitol Theatre. The original theatre was split into two theatres in the 60s.




---

150-162 Flinders St, Melbourne
Walking distance from Flinders Street Station.

---

General Post Office GPO (1859-1907)

The first Post Office was opened on the site in 1841, the present building was built in three stages. Designed by A.E. Johnson.
Extensive restoration work on the building was damaged by fire. The building is now a mall complex of shops and cafes.




---

Cnr Elizabeth & Bourke Sts
Walking distance from Flinders Street Station.

---

Government House

The official residence of the Governor of Victoria is located next to the Royal Botanic Gardens Melbourne. The only Vice-Regal building in Australia open to the public on a regular basis.

map St Kilda Road; map Royal Botanic Gardens Melbourne. See also: Government House guidebook entry.

Tours of the state apartments are available by advance booking only.
For opening and contact details see National Trust web site




---

Government House
Cnr Dallas Brooks Drive and Birdwood Ave, Melbourne
Tram No 8 from Swanston St to Domain Road Tours commence from La Trobe's Cottage (advance booking required).

---

Hellenic Museum

The Hellenic Museum is dedicated to the celebration, understanding, and preservation of the artistic and cultural heritage of ancient and modern Greece. The Hellenic Museum supports the visual arts, film, music, architecture, history, culture and education.




See our Hellenic Museum guidebook entry

For more information, contact details and opening hours see web site

---

280 William St, Melbourne
City circle tram, 55 Tram, or train to Flagstaff station.

---

The Hotel Windsor

The Hotel Windsor, 5 star hotel in the heart of the city opposite Victoria's stately Parliament House and Treasury Gardens and near to the Princess Theatre.

Site of some of the adventures of fictional detective Phryne Fisher

See also: Our afternoon tea visit to the Hotel Windsor
The Hotel Windsor Guidebook entry




---

111 Spring St, Melbourne
Near Parliament Station on the City (rail) Loop, top of Bourke Street, step off a Parliament House on City Circle Tram.

---

ICI Building (1956)

Now Orica House. This was the first building to be allowed to break the 132 foot building height limit in Melbourne. This is one of the first curtain wall buildings, and is an example of the international style office towers.

Orica House was included in the National Heritage List on 21 September 2005.

Click on thumbnail for larger image

See National Heritage List web site




---

1 Nicholson St, Melbourne

---

Immigration Museum

Part of the Museum of Victoria. Located in the old Customs House, a collection revealing insights into the settlement of Victoria by non-indigineous peoples.

Guidebook entry
Our visit to the Immigration Museum, July, 2014. (photostory)




---

Flinders St, Melbourne

---

The Johnston Collection

A house museum based on and around the Johnston Collection of Decorative and Fine Arts. The museum, lecture area and reference library are in three historic houses.

Opening hours, tours and contact details on Johnston Collection web site (email: info@johnstoncollection.org).

See our guidebook entry for the Johnston Collection.




---

East Melbourne
Train to Jolimont Station, or 48 or 75 Tram to Hilton on the Park for pickup by the courtesy bus.

---

Jones Bond Store

Late 19th century warehouse, significant being a multi-storey warehouse, a development influenced by the introduction of hydraulic lift in the mid 1880s.

For more information see the Victorian Heritage Register




---

1 Riverside Quay Southbank, Melbourne

---

La Trobe's Cottage (1839)

Home of Victoria's first Lieutenant Governor Charles La Trobe, still containing some of its original furnishings

See our Pictorial Guidebook entry

Opening hours and contact details on Park Victoria web site.




---

Kings Domain, map
Take tram No 8 south to stop 19

---

Melbourne Town Hall (1850-1870)

Features of the Town Hall include the Prince Alfred clock tower, added in 1869 and the portico added in the 1880s. Features include the Town Hall Auditorium, the Town Hall Organ, and the Town Hall Clock.

See our Pictorial Guidebook entry

Ph.: (03)9658 9658 (+61 3 9658 9658)
Town Hall retail website
City of Melbourne website




---

Cnr Swanston & Collins Sts, Melbourne, Victoria

---

Menzies at the Rialto

Originally the Melbourne Wool exchange (1891) the Winfield building today exists only as a facade. The hotel was originally offices and warehouses designed by William Pitt in 1890-1. A cobbled laneway is incorporated into the design of the interior.




---

495 Collins St

---

Old Melbourne Gaol

Victoria's oldest surviving penal establishment. Displays include death masks and other artifacts from 19th century gaol life. Night tours by candlelight. When constructed, it was considered one of the most advanced prisons in the world.

See our Pictorial Guidebook entry

Opening Hours and contact details see web site




---

Russell St, Melbourne
Take City Circle tram to Russell Street, train to Melbourne Central Station or tram along Swanston St to State Library

---

Old Royal Mint

Constructed in the early 1870s this is now the home of the Hellenic Museum.


---

280 William St, Melbourne
City circle tram, 55 Tram, or train to Flagstaff station.

---

Old Treasury Building - The Melbourne Exhibition (1857-62)

History of Melbourne from pre-European times towards the future. The Old Treasury Building hosts the original gold vaults where gold bullion was stored during the gold rush era, as well as rare and historic documents from Public Record Office Victoria highlighting key moments from Victoria's history.
Architect: J. J. Clark

For contact information and opening hours, see their web site.




---

Spring St, top of Collins St
City Circle Tram or any tram that travels along Collins St

---

Parliament House and Parliament Gardens

From 1901 until 1927 these buildings were used by the Australian Federal Government. They are now the seat of the Victorian State Government. Started in 1856, the construction halted in 1930 without building the original dome. Designed by Peter Kerr and J.G. Knight.

Click on thumbnail for larger image




---

---

Polly Woodside Maritime Museum

Restored iron barque Polly Woodside afloat and an onshore museum in historic 1930s cargo sheds.


---

Southbank
Take tram No 10 or 12 west from Collins St to the Melbourne Exhibition Centre

---

Princess theatre (1886)

The present building, designed by William Pitt and built in 1886 replaced an existing theatre. The interior was remodelled in 1922 by architect Henry White and restored in 1989. Audience members in the (high) cheap seats twist their way up spiralling staircases that seem to go forever.


---

163-181 Spring St, Melbourne.
City circle tram or Bourke St or Collins St tram to Spring St.

Click on thumbnail for larger image.




---

Royal Exhibition Building (1880)

Set in the Carlton Gardens, this building was constructed for the International Exhibition. It is still used for exhibitions although it has been superceded as a venue by the new Melbourne Exhibition Centre.


---

---

Shot Tower

The Melbourne Central Shopping Complex was built around the old shot tower.


---

---

State Library of Victoria (1853-6)

Beautiful old library loaded with atmosphere. Features include the domed reading room constructed in 1913. The footpath outside is enlivened by a wonderful statue of a architectural fragment.

See our State Library guidebook entry




---

328 Swanston St, Melbourne
Take tram along Swanston Street
City Circle tram
Train to Melbourne Central Station

---

Tasma Terrace (1878 - 1887)

Six terrace house designed by Charles Webb, they feature decorative plaster and cast iron, typical of Boom style terrace housing. The National Trust offices are now located here.


---

Tasma Terrace

---

Welsh Church (1871)

Gothic Revival Calvinist church.


---

---

Windsor Hotel





---

111 Spring St, Melbourne

---

Young and Jackson's (1853)

Originally four stone stores. In 1908 Henry F. Young purchased the nude painting Chloe, which can be seen upstairs and is a part of Melbourne's history.

---

Cnr Swanston & Flinders Sts