<!end navbar-->
---
---
Where are we?
Guidebook's Australian Maps
Map of Melbourne Central District (CBD)
Victoria, Australia (Public parks and gardens marked)
The Melbourne central district has changed many times in the last couple of decades. At one time the suburban shopping centres reduced Saturday morning Melbourne to a desert.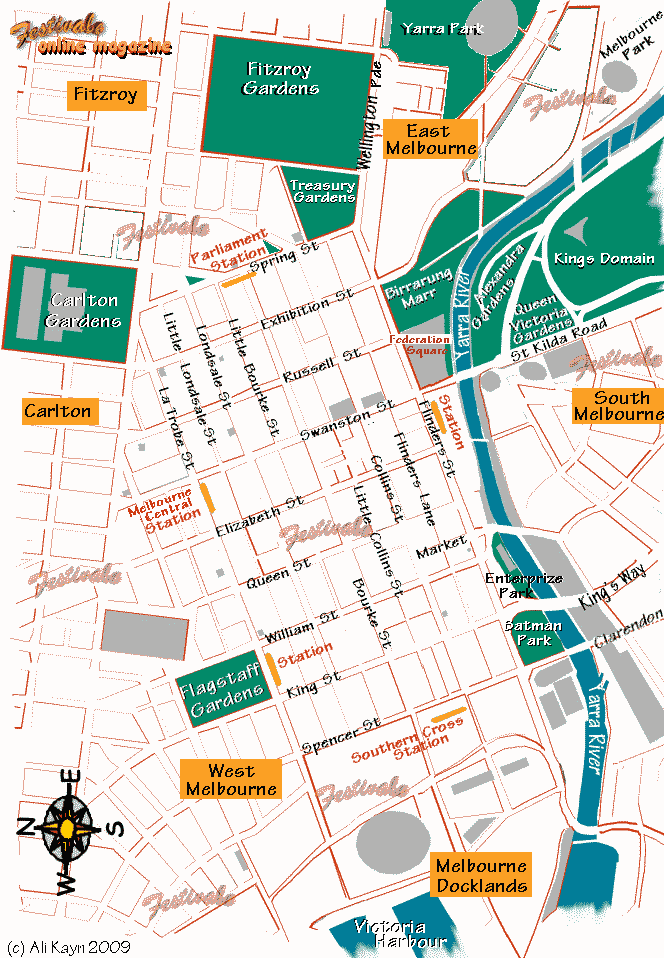 Efforts to revitalise the city centre include two 'pedestrian only' sections of main streets - Bourke St Mall and Swanston Walk. Trams are allowed along both precincts, and taxis are allowed to enter and leave for pickups.
There is much discussion about how successful these initiatives have been. Certainly many businesses have opened, or moved, however some long-time tenants have been forced out because of changes in foot traffic.
Melbourne city is home to some great eateries, to galleries, and to theatres (live and film) and bookshops.
From 10 a.m. to 6 p.m. free trams run in a loop along Flinders St, Spring St, La Trobe St and the Docklands. The conductors provide tourist information to passengers, and we've seen them taking pictures of Japanese tourists and generally being nice to people. The City Loop, an underground rail system is not open on Sundays and is not free.
Melbourne has an impressive collection of Art Deco buildings and features.
This map shows the streets that make up the original city circle tram route (Flinders street, Spencer street, La Trobe st, Spring St, and Swanston Street, which may soon be returned to traffic).
Items of interest:

Fitzroy Gardens, Treasury Gardens, Flagstaff Gardens, Batman Park; Birrarung Marr, Federation Square, Enterprize Park

---

Victorian Arts Centre (National Gallery Victoria), State Library Victoria, Melbourne Convention Centre (previously the World Congress Centre), Melbourne Exhibition Centre, Royal Exhibition Building, Parliament House, Old Treasury Building, Crown Casino, Rialto Towers Observation Deck (closed),

---

Melbourne Docklands. Block Arcade, Southern Cross Station
Related maps:

go to Melbourne towards Flagstaff Gardens and West Melbourne (Flemington Rd, Victoria St, Franklin St, Elizabeth St, Swanston St, Latrobe St, Queen St, A'Beckett St, William St, Kind St, Spencer St, Lonsdale St, Bourke St)

go to Melbourne towards Carlton Gardens (Rathdowne St, Clarendon St, Victoria St, Victoria Parade (pde), Russell St, Swanston St, Elizabeth St, Latrobe St, Little Lonsdale St, Lonsdale St, Little Bourke St, Bourke St, Spring St).

go to Melbourne towards St Kilda Road and East Melbourne (Lonsdale St, Bourke St, Elizabeth St, Swanston Walk (st), Collins St, Flinders St, Russell St, Exhibition St, Spring St, Wellington Pde (parade), Flinders St, Batman Avenue (ave), Saint Kilda Road (rd), Alexandra Ave)

go to Melbourne towards Spencer St and the Melbourne Convention Centre (Little Bourke St, Bourke St, Little Collins St, Collins St, Flinders Lane, Flinders street, Spencer St, King St, William St, Market St, Queen St, Elizabeth St, Queensbridge St, City Rd, Kings Way, Clarendon St, Southbank Precinct)

See also:Melbourne Tourism
Another View walking trail
Capital City bike trail

Melbourne parks and gardens list
Melbourne historic sites list
Melbourne museums, galleries and craft markets list

Melbourne Environs Public Parks and Gardens list
Melbourne Environs Historic Places list
Melbourne Environs Galleries and Crafts Markets list

For posts about Melbourne events, places, news, reviews, giveaways, see our Facebook Page: