Federation Square
The site of Federations Square was once a pair of dull brown office blocks beside the Jolimont rail yards north of Princes Bridge, Flinders Street Station being south of the bridge. Although taking young boys to watch the life-size 53-line train set was a treat, the area was felt to be an eyesore.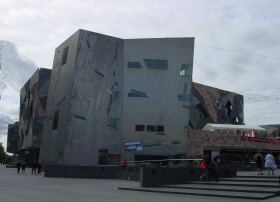 Reorganisation has cut the train lines down to twelve and freed up space for a civic area.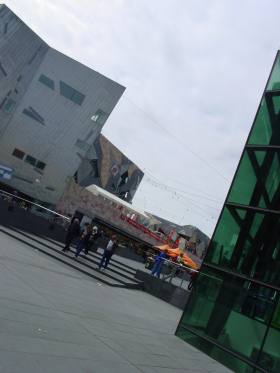 After an open competition the resulting design is a brown and grey revision of a RMIT building further along Swanston Street.
Like the City Square beside the Melbourne Town Hall, this area is harsh and dry providing little outdoor shade. Melbourne effectively has two "civic spaces", neither of which is welcoming.
The area next to Flinders Street (opposite St. Paul's Cathedral) is called St Paul's Court, the river side above Federation Wharf is called The Square.
Features:
The Atrium; Ian Potter Centre (National Gallery Victoria's Australian Art Collection); SBS broadcasters; ACMI - Australian Centre for the Moving Image (previously Cinemedia), free outdoor Wi-Fi hotspot, Federation Square (public outdoor) screen; Champions: Australian Racing Museum and Hall of Fame; National Design Centre ; Sunday book market.
Just the Facts:
Melbourne Visitor Centre
Cnr Flinders and Swanston Streets, Melbourne.
Opposite Flinders St Station
on the traditional lands of the Kulin Nation
Open 24 hours. For more information see Federation Square web site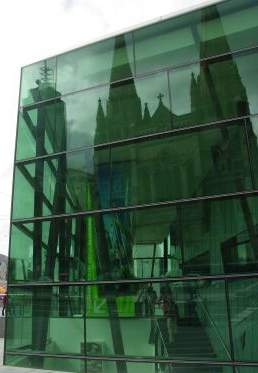 For posts about Melbourne events, places, news, reviews, giveaways, see our Facebook Page: