The Melbourne Convention Centre and the Melbourne Exhibition Centre on the other side of the Yarra sit on the edge of the central business district and provide the setting for a wide range of exhibitions, seminars and other events.

These buildings are used for the largest events, capable of seating up to 2,500 people in a room.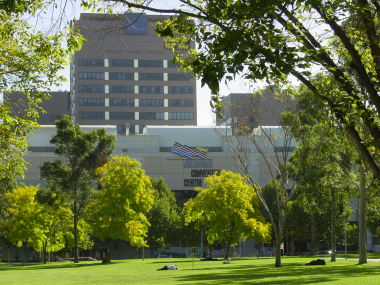 Melbourne Convention Centre seen from Batman Park. Photograph (c) Ali Kayn 2005
MEC: 2 Clarendon Street, South Melbourne
MCC: Cnr Flinders & Spencer Sts, South Melbourne
Getting there: St Kilda tram 109 or 112/12 from Collins Street, or the 96 from Bourke Street. The City Circle tram passes by the Princes Bridge, alight at the corner of Spencer and Flinders Street.