A Reel Life film section
Issue: Winter, 2008
Batman: The Dark Knight movie review
Dark Mythology
I believe what doesn't kill you simply makes you -- stranger.
A sequel to Batman Begins, The Dark Knight once again presents an unsanitised Batman living rich but sleepless in crime capital of America.
The high cost of the business of fighting crime is paid by the conscience. Bruce Wayne has lost his lovely attorney Rachel to Harvey Dent, a crusading attorney whose extreme behaviours have people thinking the he might well be the Batman.
As the darkest Joker yet terrorises the city and destroys evil-doers and good-doers alike in his bid for untramelled ascendancy, a romantic triangle of crime-fighters must confront the consequences of their actions to criminals and to the innocent.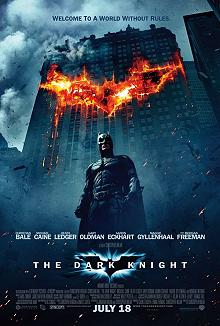 Why So Serious?
If you're not getting shot at, you're not doing your job right
What is the true cost of fighting the good fight? Like many other stories, the story of the Batman is the story of a man who is called both villain and hero, who is ruthlessly rejected, attacked and reviled by those he protects.
You either die a hero, or live long enough to become a villain.
The nature of the hero, and what she or he is willing to give up of themselves, psychologically as well as physically, and we must ask the question of whether the great unwashed masses are deserving of the sacrifices made on their behalf.
by Ali Kayn
Due for Australian release 16 July 2008
For credits and official site details, see below
Search Festivale for more work by the film-makers below.

See also:

for movie, TV show, or person

Film commentary and upcoming movie release dates at reel-life.info

Just the facts:

Title: Batman Dark Knight(2008)
Written by: Jonathan Nolan (scr), Christopher Nolan (scr) Bob Kane (characters);
Directed by: Christopher Nolan
running time:
rating:

---

The Players: Christian Bale, Heath Ledger, Aaron Eckhart, Michael Caine, Gary Oldman, Morgan Freeman, Anthony Michael Hall

---

Official website:
IMDb


---

For session times of current films, use the cinema listings on the Movie links page. For scheduled release dates, see the coming attractions section.

For more information about this movie, check out the internet movie database.
For the latest additions to Festivale, check out the change history section.