A Reel Life film section
Issue: Summer 2005
Bride and Prejudice movie review
All mothers think that any single guy with big bucks must be shopping for a wife.
Balraj (Naveen Andrews), a wealthy English barrister of Indian descent has returned to India for the marriage of a friend, bringing with him his sister (Indira Varma) and his best friend, the even wealthier American hotel mogul Darcy (Martin Henderson). All the match-making mamas are out in force, Indian style.
If we do not get the eldest married first we'll never be able to marry the rest of you for the shame.
Under the direction of Gurinder Chadha (Bend It Like Beckham), Bride and Prejudice is a modified-Bollywood style version of Jane Austen famous Pride and Prejudice.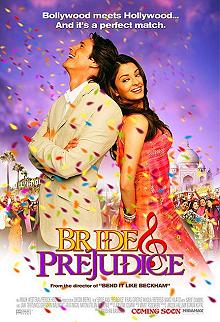 Bollywood is a very specific musical style whose formulae Chadha has adapted to make it accessible to western tastes. From the opening at an iconic religious location to the closing musical wedding, Bride and Prejudice is richly-decorated, filled with music and humour and human insight.
It is a testament to the universality of the original novel that a book about the English middle class translates so well to an Indian location with American and Indian characters. Whether they are at home or visiting London or America, the characters as do the people, bring the flavours of their customs.
Beautifully performed and executed, well-paced and good-humoured, Bride and Prejudice is a delightful way to spend time and has a lot to say about pride and prejudice and the human heart in contemporary society.
Well worth a watching.
by Ali Kayn
Due for Australian release 17 Feb 2005
For credits and official site details, see below
Search Festivale for more work by the film-makers below.

See also: Bend It Like Beckham; Pride and Prejudice (2005); Bride and Prejudice (2004) ; Pride and Prejudice (1995); Pride and Prejudice (1940); Bridget Jones' Diary ; Jane Austen Book Club

for movie, TV show, or person

Film commentary and upcoming movie release dates at reel-life.info

Just the facts:

Title: Bride and Prejudice (2004)
Written by: Jane Austen (novel Pride and Prejudice);Paul Mayeda Berges writer Gurinder Chadha writer
Directed by: Gurinder Chadha
running time: 107 mins
rating: PG

---

The Players: Aishwarya Rai, Naveen Andrews, Daniel Gillies, Idira Varma, Marsha Mason, Ashanti, Alexis Bledel

---

Official website:
IMDb


---

For session times of current films, use the cinema listings on the Movie links page. For scheduled release dates, see the coming attractions section.

For more information about this movie, check out the internet movie database.
For the latest additions to Festivale, check out the change history section.