A Reel Life film section
Issue: Winter 2001
15 Minutes (2001) movie review
Fame Game Blame Shame

A celebrity homicide detective (De Niro) and a fire marshall (Burns) investigate a string of murders by a pair of sociopaths inspired by the American cults of celebrity and blame.
Writer-director John Herzfeld sends us a bold message on the nature of media and celebrity and adulthood in contemporary America.
Two visitors to the United States -- a Czech and a Russian arrive to claim their share of a past crime.
They arrive at the home of their erstwhile accomplice with a video camera and anger. There they discover that the accomplice and his wife are dripping with jewellery bought with their share of the spoils.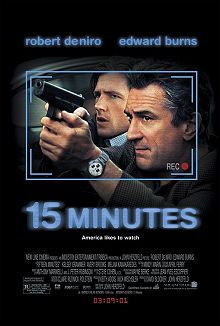 The Czech responds to the empty coffers with bloody violence while his movie-loving friend shoots on.
The fire the pair set to cover their crime unites fire marshall Jordy Warsaw (Edward Burns) and celebrated homicide detective Eddie Fleming (Robert De Niro).
Shot with a mixture of professional equipment and footage from the actual movie camera featured in the film, 15 minutes is a brutal and uncompromising spotlight on American notions of celebrity and responsibility.
by Ali Kayn
Due for Australian release May 17, 2001
For credits and official site details, see below
Search Festivale for more work by the film-makers below.

See also: Ed Burns also appears in Keeping the Faith
Robert De Niro also appears in Analyse This
Kelsey Grammer also appears in Down Periscope

for movie, TV show, or person

Film commentary and upcoming movie release dates at reel-life.info

Just the facts:

Title: 15 Minutes (2001)
Written by: John Herzfeld
Directed by: John Herzfeld
Produced by: Keith Addis, David Blocker
Edited by: Steven Cohen
Director of Photography: Jean-Yves Escoffier
running time:
rating:


---

The Players: Robert De Niro .... Eddie Fleming
Edward Burns .... Jordy Warsaw
Kelsey Grammer .... Robert Hawkins
Avery Brooks .... Leon Jackson
Kim Cattrall .... Cassandra
Melina kanadaredes;

---

Official website:
IMDb entry

---

For session times of current films, use the cinema listings on the Movie links page. For scheduled release dates, see the coming attractions section.

For more information about this movie, check out the internet movie database.
For the latest additions to Festivale, check out the change history section.