A Reel Life film section
Issue: May 1997
Down Periscope(1996) movie review
How to Torpedo Your Career

Lieutenant Commander Tom Dodge (Kelsey Grammer) is a brilliant tactician, but his twenty-year career in the U.S. Submarine fleet is about to go down the proverbial toilet.
His outlandish style, not to mention an indelicate tattoo on a delicate part of his body, has caused him to be passed over for command. Until Now.
Now, in classic Hollywood tradition he taking command of the 'wackiest' boat in the fleet - an overage diesel sub crewed by misfits and -- shock -- a female dive officer (Lauren Holly).
With the Russians selling off their diesel subs to rising powers, Dodge is asked by Vice Admiral Dean Winslow (Rip Torn) to stage two war game attacks on American ports to prove that a single renegade boat can be a threat.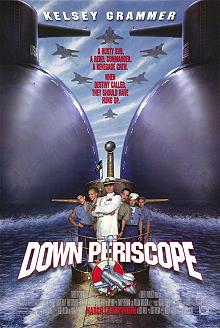 A rusty sub. A rebel commander. A renegade crew. When destiny called, they should have hung up.
Leading the defense against him is his old skipper (William H. Macy) under the orders of Dodge's loudest critic Rear Admiral Yancy Graham (Bruce Dern).
It's high jinks under the sea as Dodge must create an effective team from the individual parts, despite his screaming executive officer (Rob Schneider).
Formulaic, but pacy and well-performed.
by Ali Kayn
Released 9 May 1996
For credits and official site details, see below
Search Festivale for more work by the film-makers below.

See also:

for movie, TV show, or person

Film commentary and upcoming movie release dates at reel-life.info

Just the facts:

Title: Down Periscope(1996)
Written by: Hugh Wilson (story, scr) and Andrew Kurtzman (screenplay) & Eliot Wald (screenplay)
Directed by: David S. Ward
running time: 92 mins
rating: M

---

The Players: Kelsey Grammer, Lauren Holly, Rob Schneider, Harry Dean Stanton, Bruce Dern, William H. Macy, Rip Torn

---

Official website:
IMDb entry

---

For session times of current films, use the cinema listings on the Movie links page. For scheduled release dates, see the coming attractions section.

For more information about this movie, check out the internet movie database.
For the latest additions to Festivale, check out the change history section.