by Ali Kayn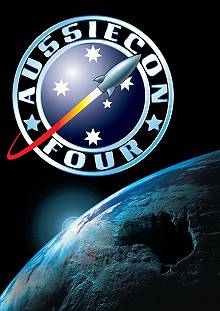 The annual gathering of the science fiction and fantasy tribe, Worldcon, is to be held in Melbourne, Australia this year. 2010's event is called Aussiecon 4, being the fourth Worldcon to be held in Australia. The first was in 1975.
The Worldcon, or World Science Fiction Convention, is the annual convention of the World Science Fiction Society(WSFS) and runs over five days. Worldcon is one of the largest all-volunteer-run events in the world. Fans volunteer, some working several years in advance, to create and produce the event. Hundreds of professional authors, editors, scientists and publishers participate on panels and other events without payment. For the attendees the charge is considerably less than a professional conference of the same size.
The 2010 event is expected to have a direct turnover in excess of $750,000. In addition to this is the money attendees will spend on travel, accommodation and other personal expenditure. Over 2,500 people are expected to attend.
Aussiecon 4 will include formal programming, such as lectures, debates and panel discussions, an art show, professional and amateur exhibits and demonstrations, and a dealers area, where booksellers and other specialist dealers sell their goods directly to members. These goods may include books (new, used and collector's items), jewellery, toys, t-shirts, and other science fiction and fantasy related merchandise and so on. A highlight is the masquerade, in which professional and amateur costumers present a competitive live presentation of their best work. In addition, a major event is the ceremony at which the WSFS presents the Hugo Awards, industry awards for which work in the field is nominated and voted upon by the membership -- the science fiction 'Oscars'.
Kim Stanley Robinson is the international guest of honour, with local writer and illustrator Shaun Tan as the Australian guest. The fan guest of honour is Australia Robin Johnson.
Melbourne's Perry Middlemiss, co-chair of the 2010 convention has attended all three of the previous Aussiecons. He says, "1975 was my first convention so I knew nothing about organising them at that time. I worked during the bidding stage for 1985, generally sitting on tables at conventions around the country, but wasn't on the committee or staff. I was Chair of the 1999 convention and I'm co-Chair of the 2010 convention."
Melbourne is not the only Australian city to 'bid' for the right to hold a Worldcon. Sydney ran a strong bid in 1983, losing against Baltimore in the U.S. Other capital cities have expressed interest in bidding, starting the process, but, says Middlemiss, "I don't think that either of them ever ended up on the final site selection ballot."
Melbourne's status as one of the world's most liveable cities is part of the reason why science fiction fans worldwide voted to stage the event here. Middlemiss is confident that Melbourne has a great deal to offer national and international visitors. "We have great food and cafes, bars and restaurants, shopping and sport, art galleries and museums. It's a world-class city in a great location. And in September we're just coming into spring which will make it a great time of year."
Aussiecon 4 will be held in Melbourne over the first weekend in September this year, at the new convention centre on the south side of the Yarra River.
Science Fiction and similar genre conventions are held throughout the year across Australia, especially on long weekends. For those who have never attended a convention, or who have only attended smaller, regional conventions, Middlemiss advises, "Aussiecon should appeal to anyone with an interest in sf, fantasy, science, horror, comics, film, art, television, steampunk, YA and books of any kind. You don't have to have attended a convention before, and you don't have to be a fan or follow only a special interest group. Our aim will be to cater for everyone. Beginning writers and film-makers will have the chance to meet and talk to many people in their fields, both from Australia and from overseas. It's not a unique opportunity but the last event of this type was 11 years ago, so it doesn't come around very often."
Unlike professional conferences, there is no 'partners programme', however Melbourne has much to offer those whose partners are interested, but not themselves.
So, how does one get the most out of an event so large? According to Middlemiss, "The best thing to do is to jump in at the deep end. Before the convention check out the program schedule which will be uploaded to the convention website. That will give you an idea of what sort of things will be on. It will also tell you which authors, editors, and artists will be attending. That's important, especially if you want to get something signed as it will allow you to being the from home."
"Take a highlighter pen along on the first day, register early and go through the program highlighting all the interesting looking panels you want to attend. Don't worry if you have more highlighted than you can possibly attend - that's actually a good thing, in a way. Make sure you sign up for a kaffeeklatch or two (that's a small session with an author or artist in which 10-12 people sit around having a coffee with the person in question). Go along to a book signing and a few readings by authors, check out the dealers room and buy a few items, visit the art show and the exhibits hall."
"In the evenings the convention will be running its major events, such as the Masquerade, the Hugo Awards, hopefully a Banquet and a Masked Ball. Go along to as much as you can. Failing that, in the evenings go along to the Worldcon bid parties and have a chat to all the local and overseas fans there. Have a beverage and a snack and just get into the fun of it."
"But first of all, on the first day, go along to the first panel which will be titled something like: "How to Enjoy Yourself at this Convention." That should give you all the hints you might ever need."
And, if you really, want to get to know how it all works and to meet a lot of people behind the scenes, volunteer to help out. Maybe you only want to volunteer for a hour or so, or a day, or for the whole con (though I wouldn't recommend that for first-timers). You'll see more of what happens that way and you may get sent somewhere you didn't know anything about. The best thing to do is to realise that all of people you walk past were once like you - a newcomer who knew next to nobody. And yet here they are, from all parts of the world, in Melbourne talking to old friends. Why not ask one of them how they did it?
The 2010 World Science Fiction Convention, known as 'Aussiecon 4', will take place in Melbourne, Australia from 2-6th September 2010. More information about Aussiecon 4, including current membership rates, is available from its web site http://www.aussiecon4.org.au or by writing to info@aussiecon4.org.au