---
---
Issue: March, 2016
Your Data on Your Devices: Personal Information Management Across Devices
Mailbird Pro Software Review
The following is a software review that is part of a featured article in Technology Bytes. For the feature, Your Data on Your Devices. For the review of em Client 6.0.24432.0.
Richard reviews Mailbird Pro 2.2.1.0
Mailbird Pro is one of the applications that often appears in "best of" software lists. Other products in those lists include em Client and Microsoft Outlook.
I come from a Eudora background and have been using this client for more years than I can remember. I liked it enough to PAY for the last full version released by Qualcomm. It has successfully migrated from Win 95 through all the Windows iterations to Win 10.
It's greatest features were the filters and the fact that you could point the data files and settings to your preferred location. This meant that if your programs/Op System drive died, your data was safe. Just needed a reinstall of the client, pointing to data/setting location during install and everything was back - email accounts, passwords and ALL your emails in their respective folders.
However, it has not been supported for quite a number of years and is showing its age.
This necessitated a search for a replacement, which so far, hasn't resulted in something I am currently willing to move to.
I've played with a number of email clients and have always been underwhelmed by them, usually because EVERYTHING winds up under c:\users\username\... or c:\program files\ ... with no options to move data/settings to another location.
I decided to try Mailbird Pro as it looked like a pretty reasonable client and got good reps on a number of tech sites.
It is loaded with features, and looks like an admirable email client, but only if you are running one or two accounts. (The free version supports three accounts, the premium version unlimited accounts.)
Below is a deeper look at it, my pros and cons.
Interface
The interface is simple looking with most functions hidden on drop down menus or from the 4 bar icon in the top left corner of the screen.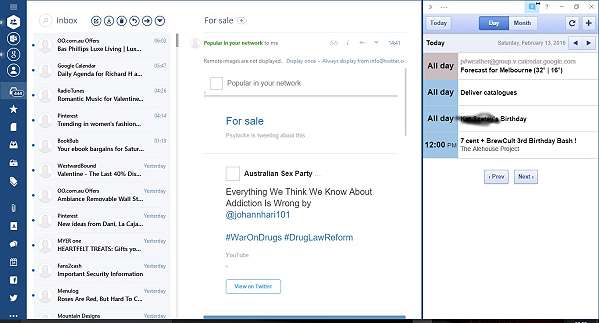 Options drop down screen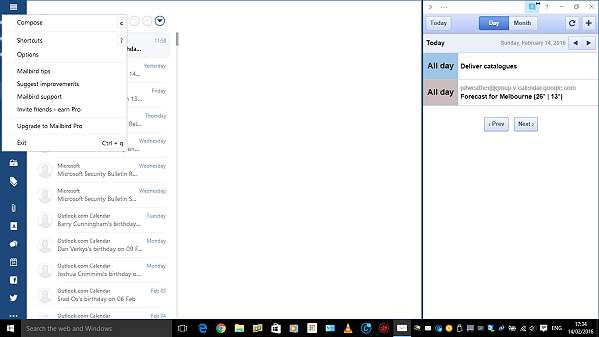 You have two options of screen layout:
One very simple and clean, with just a series of icons on the left hand side, which you need to decipher. Granted, there are pop outs when you hover over them, but I find that frustrating and I'm only running 3 accounts for testing !
The second layout is more verbose and I found it much easier to work with :D
Good features
It is very simple to setup accounts. Mailbird Pro does the bulk of the work once you put in your email address ! Like em Client it knows many of the common settings for e-mail services, especially Google, Yahoo, Hotmail and other popular providers.
If you enter your google mail account, Mailbird Pro automatically gives you access to your Google calendar within Mailbird Pro. You don't need your browser to see your Google calendar, or your Google mail. It will import your Google contacts, but doesn't synchronise them. You must export the contacts to another format, and import THAT format. This means (not a good feature) that if you make changes on your PC they won't be reflected on the web, and vice versa.
Kudos for grabbing the entire folder structure on the server side of the email address. All the folders from your Hotmail, Google and Yahoo accounts (IMAP accounts) are brought down to your PC. New mail sent from your PC through these accounts, or changes to the folders are synchronised with the web folders. It does bring down your junk mail, spam mail and trash, because sometimes 'good' mail is accidentally misfiled by the spam filters of the providers.
Mailbird Pro also enables you to integrate other apps within your Mailbird Pro umbrella. This includes Evernote, Google docs and Dropbox and a number of Social Media apps, such as Facebook and Twitter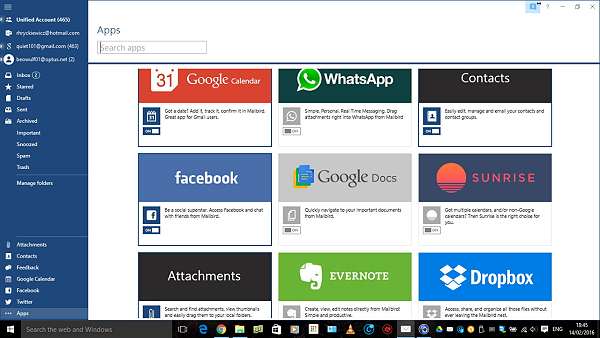 Shortcomings
There is no apparent way of filtering your inbox or running rules to sort out the incoming or sent mail.
I had a look at the Mailbird forums and a number of people have asked for filtering (rules) as a feature, but it seems to be on a back burner somewhere.
This particular lack is the biggest drawback for me. I run a number of accounts, of which I'm using three for testing, and I'm just not pleased with the way Mailbird Pro has set them up. It copies the folder structure from IMAP accounts like Hotmail, and without filtering I can't automatically refile the messages.
If it is this cluttered with three accounts, it would be a mess with the other five accounts I run. We didn't receive a license for the review, so we had to test the 'light' free version.
Mailbird Pro has some nice features, but the missing filters is a deal-breaker, as is the fact that the contacts don't synchronise, and the appearance of the program is too cluttered for easy use.
Your Data on Your Devices (feature)
---

Richard Hryckiewicz is an occasional reviewer at Festivale. He is our in-house tech guy having years of experience in IT support.
Richard is on Richard on Facebook
---
For posts about Melbourne events, places, news, reviews, giveaways, see our Facebook Page: