---
---
Erin Thorne
answers the Usual Questions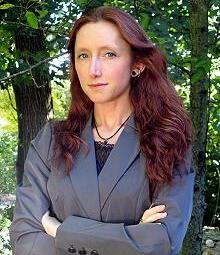 Author Erin Thorne, who writes mostly paranormal fiction says, "what makes a story resonate with a reader, the element that brings life to its characters, is none other than the touch of genuine emotion that we release as we write. I consider the process to be a cathartic one, a way to work through feelings that can be overpowering at times."
Has your interaction with fans, for example, at conventions, affected your work?
I've met quite a few interesting people at signings and events, but the interactions that have measurably affected my work were those in which the person with whom I was speaking or corresponding had read something of mine, and was able to offer genuinely constructive criticism. I'm not talking about ways they would have changed the plot, or characters they might have altered; I'm referring to rules of grammar I've broken and incorrect propensities in my writing in which I may have indulged. I always want to hone my craft, and if someone's in a position to notice an error that I've consistently made, I can only improve if they point it out to me.
Is there any particular incident (a letter, a meeting, a comment that stands out?
There is! A friend and fellow author, Michael Aronovitz (whose work is outstanding, by the way), took the time to inform me of a bad habit into which I'd fallen. He explained, in technical terms that indicated his knowledge of the field, what I'd done wrong and how I could correct it. My work has benefited tremendously from this insight, and I'm grateful that he went out of his way to help me.
Do you have a favourite author or book (or writer or film or series) that has influenced you or that you return to?
There are several that have left their marks in different ways. Ray Bradbury's ability to capture the fleeting magic of what it's like to be on the cusp of adolescence, along with his vivid imagination and capacity for rapidly drawing the reader into his stories, greatly influenced how I write. A dry witticism inspired by Sinclair Lewis's Babbitt has cropped up in my work here and there; also, I sometimes re-read the works and quotes of Oscar Wilde for my own enjoyment, and to lighten the mood of whatever I'm writing.
Who is the person you would most like to be trapped in a lift with? or a spaceship?
My significant other would be the ideal choice; what better environment exists in which to bond with one another?
Who is the person you would most DISlike to be trapped in a lift with? Or a spaceship?
That's a difficult question to answer briefly, since it inspires a rather long list.
What would you pack for space? (Is there a food, beverage, book, teddy bear, etc that you couldn't do without?)
I'd need plenty of water and coffee, paper and those pens with pressurized ink cartridges, and a dozen Milky Way bars.
What is the most important thing you would like to get/achieve from your work?
I want people to enjoy what I've written, and to share it with others.
What is the special satisfaction of your work?
Sometimes it's cathartic, and helps me to release otherwise stifling emotions. In other cases, the writing process is energizing, as I flesh out an idea or a dream and watch it take on a life of its own. I truly love to take a concept and run with it as far as I can go, usually in a strange or bizarre direction.
submitted by Erin Thorne
10 September 2013
For other answers to The Usual Questions Click here
Just the facts:
Born: Worcester, Massachusetts
Resides: Erin Thorne resides in Massachusetts, USA with her family, and wanders around this state (as well as a couple of adjoining ones) to read from, and sign, her books.
Bibliography/Awards: She currently has three books: Behind The Wheel, Deals Diabolical, and Diane's Descent, all of which are available from Amazon. In addition, her work has appeared in multiple anthologies, and has been featured in Adventures for the Average Woman magazine (now known as IdeaGems).
Web site:
You can learn more about the author and her work on her website, www.erinthorne.org, and keep up to date on upcoming appearances and events by visiting her author's pages on Facebook and Amazon.

For posts about Melbourne events, places, news, reviews, giveaways, see our Facebook Page: