A Reel Life film section
Issue: Winter 2014
Blended (2014) movie review
Barrymore and Sandler Together Again
A woman is on her phone in a restaurant bathroom, arranging a rescue call from the blind date from hell. He's a pig, she's uptight. What mutual friend ever thought this would turn out well? She spills gravy all down her blouse trying to quench the heat of too-hot chilli sauce... He's staring at the rack of the waitresses (plural)... And already Blended (directed by Frank Coraci) has established itself as slapstick fare several bars below Fifty First Dates (2004) and The Wedding Singer (1998), which are the other two movies Drew Barrymore and Adam Sandler have made together.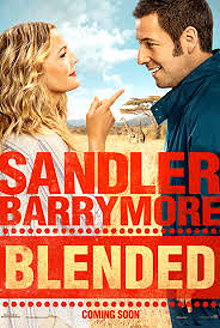 Lauren (Barrymore) has two boys and an ex-husband who cheated on her. Jim (Sandler) is also a single father with three girls. (Yes, it's that type of movie.) By virtue of ridiculous coincidence, followed by predictably bad planning, the two families end up in 'Africa' at a themed wildlife resort, pretending to be a blended family among all the other blended families - because, hey, it's 'Blended Families Week'!
This film is not entirely without merit. It touches on some very legitimate issues - such as how does a single mother understand her teenage son's need for dirty magazines and deal with his crush on the babysitter? Or the struggles of a teenage girl trying to metamorphose into a young woman when her father buys her clothes from the sports/camping store he works at and sends her to the barber for a haircut.
As the two families spend time together at this resort, Lauren bonds with the girls and becomes a female confidant, while Jim hangs out with her kids and does 'boy stuff'. And of course Jim and Lauren start to see admirable qualities in each other as well... But even though there are several poignant moments, overall it's still fairly generic and predictable - even if the end takes a little longer (too long?) to reach than expected.
There are some funny moments, but - and I should admit at this point that slapstick comedy is far from my favourite genre - these are also mostly very silly. Moreover, in a seeming attempt to emulate Bollywood, the staff in this weird wildlife resort burst regularly into song and dance numbers that are really rather intrusive to the guests, and not particularly amusing. But I did in fact laugh out loud several times at other times - which is not guaranteed. So for fans of this style of comedy, Blended might actually hit the spot.
Overall, though, I found Blended disappointing. I accept that a comedy like this is probably not the vehicle for exploring deeper issues with respect to loss, broken families and accepting additions to the family - but I do think it could have veered a little further off the road of cliché and predictability. In some ways, I think it tries to do too much, with the slapstick and the Bollywood and the family drama. It might be entertaining for five minutes, but there's nothing at all to take away...
Highlights for me were the cameo from Ten Second Tom (Allen Covert) from Fifty First Dates, the cameo by South African Test Cricketer, Dale Steyn (merely because I recognised him), and the performance of Alyvia Alyn Lind as Lou, Jim's youngest daughter - she's completely adorable and a natural actress. I do hope to see more of her!
For posts about Melbourne events, places, news, reviews, giveaways, see our Facebook Page: