A Reel Life film section
Issue: Spring 2014
Annabelle (2014) movie review
Before the Conjuring
At the mere mention of a haunting/possession film I begin to smile uncontrollably like the Cheshire Cat. Being a huge James Wan fan I had mixed emotions when I heard the prequel (to The Conjuring) was to be made, knowing it would end up being sheer brilliance or a completely bloody wasted opportunity.
The story begins in the '60s era of Charles Manson with a lovely couple, Mia (Annabelle Wallis) and John Gordon (Ward Horton) In the lead up to the birth of their first child, John hunts down a hideous oversized doll Mia has been trying to find to add to her obsessive collection of Victorian dolls and presents it to her as a gift. Mia gives the doll pride of place in the nursery alongside two others which form a set.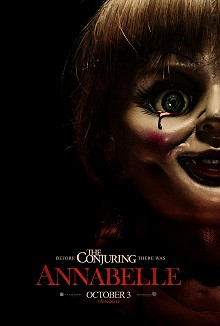 Late one night shortly after the dolls arrival, members of a satanic cult murder John and Mia's elderly neighbours then break into their home where one of them scrawls a bloody sigil on the wall of the nursery. The blood from the intruders then seeps into the eye cavity of the hideous doll and at this point in the film your mind begins to swirl with all sorts of wonderful haunting imagery that could take place for the remainder of the film... Oohhh if only!
Mia is quite traumatized and the couple move to an apartment building in Pasadena but not before they discard the creepy doll in the trash bin. Throughout the second half of the film Mia is home alone with a new baby and the hideous grimy doll who mysteriously reappears at their new residence, yet Mia decides to keep her. All manner of terrifying supernatural events begin and they take a heavy toll on Mia.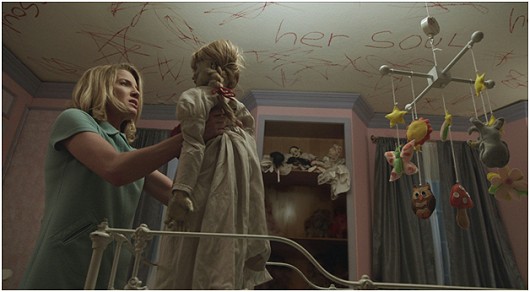 Alfre Woodard plays the role of a friendly neighbor who believes what is happening to Mia and is a joy to watch as always, having said that it's hard to love a film when you have no emotional investment in the characters. No possession film is complete without a priest and as we all know too well the priest meets an untimely death - no surprises there. This film goes for cheap old school scares but all it achieves is roaring laughter from the audience. Unfortunately throughout the entire film I kept thinking this reminds me of Ti West's House of the Devil - another film that failed on all levels and that is not a film anyone should aspire to. Director John Leonetti (Cinematographer for the Conjuring) failed to achieve the menacing atmosphere needed for this film.
Overall Annabelle was deeply disappointing but for those who can convince themselves to sit through the entire film... The best part begins when Mia enters the basement...
For posts about Melbourne events, places, news, reviews, giveaways, see our Facebook Page: