A Reel Life film section
Issue: Winter 2014
And So It Goes (2014) movie review
Good Things Come...
Oren Little (Michael Douglas) was a big man in the real estate boom of the 1990s. He wound up with a house worth 8.6 million, which he's trying to sell. And while he's doing that he's living in Little Shangri-La and making the lives of the other tenants miserable, including small-time lounge singer Leah (Diane Keaton). But his life is about to change when his son announces he's going to jail and Oren is left with custody of the granddaughter he didn't know he had.
This unpretentious film is the latest from, and featuring, director Rob Reiner (The Story of Us, A Few Good Men, When Harry Met Sally...) .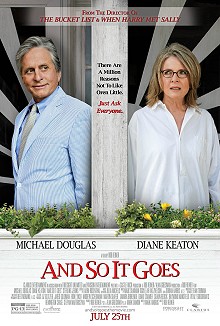 The theatres are filled with impossibly beautiful young people performing with impossible athleticism in films that often lack any depth or human feeling. The films are about special effects creations -- monsters, space ships, robots, or really fast cars and really destructive guns.
And So It Goes is a film about people. Although the leads are much better known than the supporting cast, and the character of Oren Little is front-and-center, this is a film about the tenants of Shangri-La.
The opening sequences show Oren as selfish, pompous, shallow and opinionated, disinterested in the people around him with the possible exception of his chain-smoking best friend and employer (Frances Sternhagen).
When his grand-daughter comes into his life, and his son is put in jail Oren must interact with the others in Shangri-La. He is on the path to redemption, and to the recovery of his heart.
Keaton gets to showcase her bluesy voice, and although under-utilised, Annie Parisse and Rob Reiner put an effort into their supporting parts.
This is a film about people, as all the best films are. It could be set anywhere. The characters could be anyone. That universality lifts a simple story to something worth seeing again and again.
by Ali Kayn
Australian release 7th August 2014
For credits and official site details, see below
Search Festivale for more work by the film-makers below.
See also: Rob Reiner also directed Alex & Emma, The Story of Us, A Few Good Men, When Harry Met Sally...; Diane Keaton also appeared in The First Wives Club; Because I Said So;

for movie, TV show, or person

Film commentary and upcoming movie release dates at reel-life.info

Just the facts:

Title: And So It Goes (2014)
Written by: Mark Andrus
Directed by: Rob Reiner
Running time: 94 mins
Rating:

---

The Players: Diane Keaton, Michael Douglas, Annie Parisse, Rob Reiner, Frances Sternhagen, Sterling Jerins

---

Official website: http://www.studiocanal.com.au/AndSoItGoes/
IMDb entry

---

For session times of current films, use the cinema listings on the Movie links page. For scheduled release dates, see the coming attractions section.

For more information about this movie, check out the internet movie database.
For the latest additions to Festivale, check out the change history section.
For posts about Melbourne events, places, news, reviews, giveaways, see our Facebook Page: