A Reel Life film section
Issue: Autumn, 2008
Alien Raiders (2008) movie review
Small Town, Big Trouble
It's closing time at the Hastings Supermarket in the small town of Buck Lake, out in the dark is an ominous group in a van. In terror-filled U.S.A., it seems obvious just who is in the van.
Alien Raiders is a low-budget film that looks like a low-budget film. The performances are worker-like, the shooting and sound are all up to scratch and the script is well enough written. All in all, this is the little sf-horror-thriller film that could.
Despite the lack of flash and finish that a "big" movie would have, Alien Raiders is watchable with a good dollop of suspense.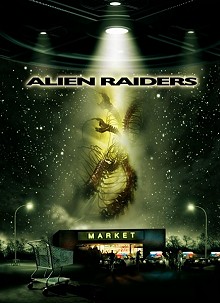 Promising, but not inspiring, Alien Raiders is good for a night at home with pizza, entertaining without straining a single brain cell.
by Ali Kayn
Due for Australian release 2008
For credits and official site details, see below
Search Festivale for more work by the film-makers below.

See also:

for movie, TV show, or person

Film commentary and upcoming movie release dates at reel-life.info

Just the facts:

Title: Alien Raiders (2008)
Written by: Julia Fair, David Simkins
Directed by: Ben Rock
running time:

---

The Players:

---

Official website:
IMDb entry/B>

---

For session times of current films, use the cinema listings on the Movie links page. For scheduled release dates, see the coming attractions section.

For more information about this movie, check out the internet movie database.
For the latest additions to Festivale, check out the change history section.