A Reel Life film section
Issue: Summer 2008-9
Dr Jekyll and Mr Hyde (2008) movie review
Monster from the Alter-Ego
Told in a contemporary setting, Dr Jekyll and Mr Hyde is a retelling of the iconic science fiction/ horror story of a scientist who experiments on himself and in doing so unleashes the monster within.
Dr Jekyll, a prominent neurologist becomes a serial killer, seemingly is without conscience in either persona. Whether he is unwilling to admit defeat or confess to horrific misogynistic crimes, Jekyll seeks neither justice nor medical assistance, willing to have others pay the price for his scientific egotism.
I'm the one who's responsible.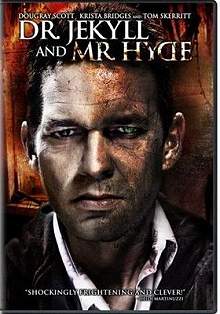 For film-makers, revisiting such rich and well-known material offers many possibly pitfalls and rewards. Although it may be fun and interesting to make one's own version of this classic tale, is it worth millions of dollars to retell the story without offering any new insights. Fortunately for us, the Canadians are good at bringing a new eye to an old subject.
It just isn't done this way ... there could be mitigating circumstances.
This version of the story introduces a new monster -- the conscienceless legal system. When Jekyll tries to bring himself and his hidden monster to justice, he is confronted with and confounded by a system that is all angles to be worked.
The conscience (Jekyll) tries to stop the destruction within the first 20 minutes of the film and it is up to those around him to find a way to bring down the killer (Hyde). Or will they? When it comes to lawyers and justice, "Is this real or is it a game?"
Not since King Kong has an animal needed a damsel more. Can her quandry or conscience save the film?
by Ali Kayn
Due for Australian release 2008
For credits and official site details, see below
Search Festivale for more work by the film-makers below.

See also:

for movie, TV show, or person

Film commentary and upcoming movie release dates at reel-life.info

Just the facts:

Title: Dr Jekyll and Mr Hyde (2008) (DVD release)
Written by: Paul B. Margolis (writer), Robert Louis Stevenson (novel)
Directed by: Paolo Barzman
running time: 89 minutes
rating: M

---

The Players: Dougray Scott, Tom Skerritt, Krista Bridges, Danette Mackay

---

Official website:
IMDb entry

---

For session times of current films, use the cinema listings on the Movie links page. For scheduled release dates, see the coming attractions section.

For more information about this movie, check out the internet movie database.
For the latest additions to Festivale, check out the change history section.