A Reel Life film section
Summer 2008-9
Changeling(2008) movie review
Mother Lost
In 1928 Los Angeles a woman (Angelina Jolie) returns home from supervising telephone operators to discover her only child, a 9 year old boy, missing. After searching the neighbourhood she calls the police only to be rebuffed with a 24-hour "he'll be home when he feels like it" non-reporting policy.
While Rev. Rev. Gustav Briegleb (Malkovich) decries the corruption and malfeasance of the L.A. police and government, Christine Collins uses her phone connections to conduct her own search for her boy. When the joyous day comes and the police, surrounded by a horde of waiting press, return her child Christine is shocked to discover that the child is not her own.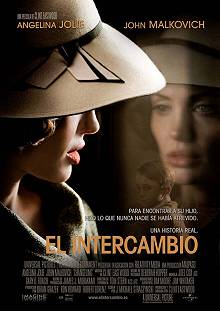 To find her son, she did what no one else dared.
Dismissed and pressured into accepting the boy, Christine's attempts to restart the search for her own child are refused. The police have closed the case and she and her witnesses are an embarrassment that must be put down. Fortunately for the police Christine is a woman, and common male prejudice shouts that females are either emotional to the point of hysteria or, if calm, disassociated or delusional. She is summarily, without medical or legal examination bundled into an institution where she is told that she can leave if she signs a declaration accepting the child and the police's right to call her insane. This is the almost-lost real-life story of a woman who brought down one generation of American corruption. Changeling brought back memories to this reviewer. When I started out I received mail to "Mr", not because my name looked male, but because my JOB was "male" (managerial). This continued through the 1980s. Christine is portrayed as apologetic throughout the film; cautious and humble in her demeanour. This is something that today's young women won't understand -- that to question the wisdom of, or even be impolite to, a male was the act of a disreputable woman. Even today there are many homebody pet-women, the 'respectable (sic)' housewives who perpetrate the myth of masculine superiority.
In Christine's day, to argue, even to request humbly, were atrocities of behaviour. The lot of the female, the code by which Christine was expected to act was acceptance, don't make waves, apologise, concur. That she did not establishes this woman as more heroic than any muscle-bound bloke gunning down the bad-guys in an action flick.
by Ali Kayn
Due for Australian release 2008
For credits and official site details, see below
Search Festivale for more work by the film-makers below.

See also:

for movie, TV show, or person

Film commentary and upcoming movie release dates at reel-life.info

Just the facts:

Title: Changeling (2008)
Written by: J. Michael Stracznski
Directed by: Clint Eastwood
Produced by: Clint Eastwood, Brian Grazer, Ron Howard,
Edited by: Joel Cox, Gary Roach
Director of Photography: Tom Stern
running time: 141 mins
rating: MA

---

The Players: Angelina Jolie; John Malkovich;

---

Official website: Official Site
IMDb

---

For session times of current films, use the cinema listings on the Movie links page. For scheduled release dates, see the coming attractions section.

For more information about this movie, check out the internet movie database.
For the latest additions to Festivale, check out the change history section.