A Reel Life film section
2007
1408 (2007) movie review
Horror for Hire
A writer who specialises in writing up paranormal locations finds a room the dredges up the horrors of his own past.
Mike Enslin (John Cusack) has a process. He is a travel writer of a special type -- visiting and documenting sites of supposed paranormal activity. For him the out-of-the-way is every-day, and he applies a well-developed skepticism.
He receives an anonymous lead that takes him to The Dolphin Hotel room 1408 (1+4+8). Ordinarily he is welcomed by the purveyors of haunted habitats, but to book into room 1408 of The Dolphin requires legal action.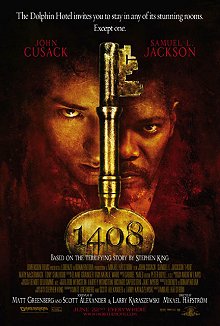 The Dolphin Hotel invites you to stay in any of its stunning rooms. Except one.
What is it about room 1408? Why is the management (Samuel L. Jackson) so eager to 'save' him from a room?
Told with copious special effects, 1408 is a classic what-is-it? Is it real? Is it a dream? Will Enslin survive?
1408 is horror that relies on the story, not noise and gore. Ably performed by an excellent cast, including the underused Mary McCormack it's worth the ride.
by Ali Kayn
Due for Australian release 11 Oct 2007
For credits and official site details, see below
Search Festivale for more work by the film-makers below.

See also: Mary McCormack plays the lead in the television series

In Plain Sight

. John Cusack also appears in Gross Pointe Blank

for movie, TV show, or person

Film commentary and upcoming movie release dates at reel-life.info

Just the facts:

Title: 1408 (2007)
Written by: Matt Greenberg, Scott Alexander, Larry Karaszewski. Short story by Stephen King.
Directed by: Mikael Hafstrom
Edited by: Peter Boyle
Director of Photography: Benoit Delhomme
running time:
rating:

---

The Players: John Cusack; Samuel L. Jackson; Mary McCormack;

---

Official website:
IMDb entry

---

For session times of current films, use the cinema listings on the Movie links page. For scheduled release dates, see the coming attractions section.

For more information about this movie, check out the internet movie database.
For the latest additions to Festivale, check out the change history section.