A Reel Life film section
Arthur and the Minimoys movie review
(Arthur and the Invisibles)
On his tenth birthday Arthur (Freddie Highmore) learns the history of the Minimoys, tiny people his grandparents encountered on their African adventures.
Arthur and his grandmother (Mia Farrow) are alone, his grandfather is missing his parents absent, with the creditors literally at the door. In days their home will be lost -- but Arthur has a plan.
He follows the clues left by his grandfather and together with a team of warriors he embarks on a search for the handful of rubies once given to his grandfather and hidden somewhere on the property.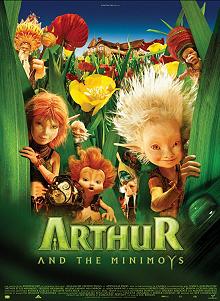 In a few turns of a magical instrument Arthur the boy is drawn into the world of the Minimoys, tiny people now inhabiting the wild grasses and subterranean passages of the family's property.
Arthur must join forces with the beautiful Princess Selenia (Madonna) and her younger brother to save the Minimoys from the evil M, rescue his grandfather and recover the missing rubies.
It's a traditional children's story -- magic and monsters, good and evil, the beautiful warrior princess and the pure-hearted hero.
The tale is told begins in the live action real world until Arthur is transformed to take on his quest. The world of the Minimoys in beautifully detailed 3D animation.
The tale intercuts between the bereft and beleaguered grandmother above and the fantastic world of the Minimoys below.
Luc Besson and his team are unable to resist a battle to a disco beat but otherwise we are spared the extremes of sugary songs and explicitly moralising that animation producers often sink to.
Arthur and the Minimoys is happily-ever-after with the possibility of more adventures -- a satisfying trip, well paced, performed and presented with style.
by Ali Kayn
Due for Australian release 11 Jan 2007
For credits and official site details, see below


for movie, TV show, or person

Film commentary and upcoming movie release dates at reel-life.info

Just the facts:

Title: Arthur and the Minimoys(2006)
Arthur et les Minimoys
Written by: Luc Besson (book, scr), Céline Garcia (scr)
Directed by: Luc Besson
Produced by:
Edited by:
Director of Photography:
running time: 103 mins (FR) 94 (U.S.)
rating:

---

The Players: Freddie Highmore, Mia Farrow, David Suchet, David Bowie, Madonna

---

Official website:
IMDb


---

For session times of current films, use the cinema listings on the Movie links page. For scheduled release dates, see the coming attractions section.

For more information about this movie, check out the internet movie database.
For the latest additions to Festivale, check out the change history section.