A Reel Life film section
Issue: 2004
Cellular (2004) movie review
Help is on the Line

If you hang up, I'll die.
Ryan (Chris Evans) is the ultimate L.A. self-centred dude until one memorable day when Jessica (Kim Basinger) calls him from her crippled phone and tells him that she has been kidnapped and asks him to help save her family.
In a genre filled with "get the girl by violent adventuring", this film uses a life-saving adventure to help a character achieve redemption.

Cellular is the classic kidnap and rescue film. In this case the victim reaches out to a stranger to help her in a city known for surface and self-indulgence. William H. Macy plays the cop who plans to open a day-spa, Ryan encounters a lawyer who threatens a law suit over a crossed line, and unhelpful shop staff who don't listen.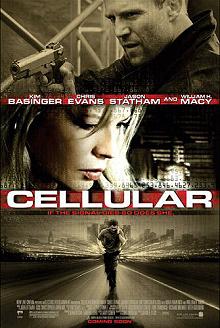 In a world when nobody seems to care, Jessica's life is in the hands of an unknown young man whose girl-friend has dumped him for his callous selfishness. Pacy and interesting.
by Ali Kayn
Australian release 10 February 2005
For credits and official site details, see below
Search Festivale for more work by the film-makers below.

See also:

for movie, TV show, or person

Film commentary and upcoming movie release dates at reel-life.info

Just the facts:

Title: Cellular (2004)
Written by: Larry Cohen (story) Chris Morgan (screenplay)
Directed by: David R. Ellis
Running time: 94 mins
Rating: M

---

The Players:

---

Official website: Kim Basinger, Chris Evans, Jason Statham, William H. Macy
IMDb entry

---

For session times of current films, use the cinema listings on the Movie links page. For scheduled release dates, see the coming attractions section.

For more information about this movie, check out the internet movie database.
For the latest additions to Festivale, check out the change history section.