A Reel Life film section
Issue: Winter 2003
Bulletproof Monk (2003) movie review
Mystical Inheritance

The first noble prophesy:
To defeat an army of enemies whiles a flock of cranes circles overhead.
The second noble prophesy:
To battle for love in the palace of jade.
The third noble prophesy:
To free brothers you never knew of the family you never had.
A Buddhist monk who has guarded a powerful scroll for 60 years has come to America to pass the mantel to the next generation. As he continues to battle those who would steal the scroll and gain the ultimate power, he befriends two young people who spend their time in the streets and under-places of the city.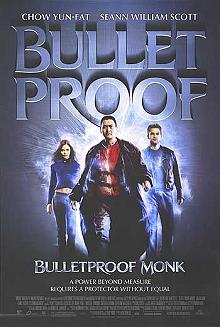 Karr is a thief who picks pockets and gives food to the homeless. He has learnt martial arts by watching Chinese martial arts films.
Bad Girl challenges Karr's displaying her own martial arts skills, but her knowledge is enriched by a deeper knowledge of Asian practices and languages. Karr is torn between his fascination with the bad girl, his desire for an easy, irresponsible life, and the calling of his better nature.
'I'm a pickpocket, not a hero.'
In a single lesson the monk who gave up his name teaches Karr to step through the air, a secret of his own superior martial arts prowess.
Step on the air like a stone. Swim through it like the sea.
As the time comes for the monk to pass the secrets to a new guardian he and his new friends must clarify their relationships while they battle ex-Nazis and other would-be power-mongers
Unevenly written, the plot trips over its own feet and the patchiness of the story reveals the fact that the film-makers had to make several passes before choosing the climax of the theatrical release. Bulletproof Monk does not live up to its potential, however it is still well-enough paced to hold the interest and there is enough characterisation and story line not to reduce the film to a boring stream of action sequences.
by Ali Kayn
Due for Australian release 12 June 2003
For credits and official site details, see below
Search Festivale for more work by the film-makers below.

See also: Daredevil ; The Matrix; Superman Returns ; Batman Begins; Hellboy ; Hellboy and the Golden Army ; Aeon Flux

for movie, TV show, or person

Film commentary and upcoming movie release dates at reel-life.info

Just the facts:

Title: Bulletproof Monk (2003)
Written by: Ethan Reiff (scr, Cyrus Voris (scr),
Directed by: Paul Hunter
running time:
rating:

---

The Players: Yun-Fat Chow, Seann William Scott, Jaime King

---

Official website:
IMDb


---

For session times of current films, use the cinema listings on the Movie links page. For scheduled release dates, see the coming attractions section.

For more information about this movie, check out the internet movie database.
For the latest additions to Festivale, check out the change history section.