A Reel Life film section
Issue: Summer 1999-2000
Dogma (1999) movie review
Jay and Silent Bob on Crusade

A nun is sitting in an airport in American cheese country, listening to a strange young man and about to have crisis of faith. He argues convincingly against the existence of her god. Ironic really, since he is one of two fallen angels (Matt Damon and Ben Affleck).
Writer-director Kevin Smith plumbs his faith for a story about the efforts of two fallen angels to return to heaven using a loophole introduced by Roman Catholic doctrine.
Representatives of the god must prevent the destruction of the Earth by preventing the two ex-angels from entering a church at the critical time.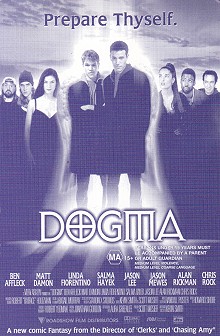 Get 'touched' by an angel.
Jay and Silent Bob (Jason Mewes and Kevin Smith) are called upon to escort the disaffected descendent (Linda Fiorentino) of a key religious family to face down the errant pair.
Smith brings together a considerable cast of comedians to perform in this sometimes tasteless interpretation of christian mythology. This includes Chris Rock as the black apostle written out of history by the white establishment, Alan Rickman as Metatron.
The entire production is dragged along by Fiorentino who plays all but a cold-water scenes in varying states of slurring deeply stoned disassociation.
Dogma is one of the genre of explicit religious material that is accessible to non-followers as a supernatural tale, however Fiorentino's lack of performance and some of the explicit anal-level humour detracts from the audience's enjoyment.
by Ali Kayn
Due for Australian release 2 February 2000
For credits and official site details, see below
Search Festivale for more work by the film-makers below.

See also:

for movie, TV show, or person

Film commentary and upcoming movie release dates at reel-life.info

Just the facts:

Title: Dogma (1999)
Written by: Kevin Smith
Directed by: Kevin Smith
running time: 130mins rating: MA

---

The Players: Ben Affleck, Matt Damon, Linda Fiorentino, Jason Mewes, Chris Rock, Alan Rickman, Jason Lee, Salma Kayek, Kevin Smith, Janeane Garofalo,

---

Official website:
IMDb entry

---

For session times of current films, use the cinema listings on the Movie links page. For scheduled release dates, see the coming attractions section.

For more information about this movie, check out the internet movie database.
For the latest additions to Festivale, check out the change history section.