A Reel Life film section
Issue: Summer 2010
Addicted to His Love (1988) movie review
What Price Love?

Larry Hogan (Barry Bostwick) is a bad boy.
Oh, he's the kind of plausible rogue who women love, because like the most effective rogues, and unlike the average joe, he does know what women want, and how to act with women. Unfortunately he's a moral and ethical vacuum. He knows because it's his life's work.
Larry Hogan is a con man who has been preying on women for years. Now it's time for the women to ignore their bruised pride and embarrassment and seek justice.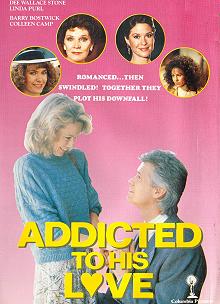 Addicted to His Love is an unassuming film about a criminal and his victims, and the choices that have to be made in order to bring him to justice. We see him working his magic, playing on the heart strings of the ladies, and we see the ladies finally standing up for themselves.
Sympathetic and at times amusing, well worth a look, remembering these characters are still out there today.
by Ali Kayn
Australian release 1988
For credits and official site details, see below
Search Festivale for more work by the film-makers below.

See also:

for movie, TV show, or person

Film commentary and upcoming movie release dates at reel-life.info

Just the facts:

Title: Addicted to His Love (1988) (a.k.a. Sisterhood)
Written by: Ronni Simon
Directed by: Arthur Allan Seidelman
Running time: 100 mins
Rating:

---

The Players: Barry Bostwick, Polly Bergen, Colleen Camp; Erin Gray; Linda Purl; Dee Wallace; Hector Elizondo; Peggy Lipton; Liz Torres

---

Official website:
IMDb entry

---

For session times of current films, use the cinema listings on the Movie links page. For scheduled release dates, see the coming attractions section.

For more information about this movie, check out the internet movie database.
For the latest additions to Festivale, check out the change history section.