A Reel Life film section
Issue: July 2009
About Last Night (1986) movie review
Be Cautious Young Lovers

The Brat Pack return with this Chicago-based story about a salesman (Rob Lowe) and a graphics designer (Demi Moore) who meet, have sex, fall in love, but cannot maintain their relationship.
Their efforts to make a life together are complicated by his emotional shut-in nature and by their respective best friends (Belushi and Perkins).
About Last Night is a 1980s contemporary romance with pair of pretty actors in the lead and lots of pretty 1980s music in the background.
The characters have some depth and the story has realistic turns and some humour.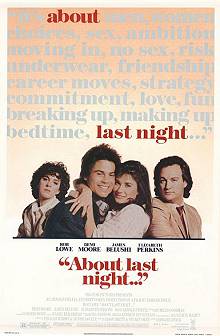 There are at least two versions of the opening credits, the cinematic release is an explicity-told exploit while the middle-America television credits are the usual washed-out cop-out. Sigh.
A nice addition for 1980s popcorn night, not challenging, but interesting and entertaining.
by Ali Kayn
Australian release 1986
For credits and official site details, see below
Search Festivale for more work by the film-makers below.

See also:

for movie, TV show, or person

Film commentary and upcoming movie release dates at reel-life.info

Just the facts:

Title: About Last Night (1986)
Written by: David Mamet (play Sexual Perversity in Chicago); Tim Kazurinsky (screenplay) and Denise DeClue
Directed by: Edward Zwick
Running time: 113 mins
Rating: M

---

The Players: Rob Lowe .... Danny Martin; Demi Moore .... Debbie Sullivan; James Belushi .... Bernie; Elizabeth Perkins .... Joan; Robin Thomas .... Steve Carlson

---

Official website:
IMDb entry

---

For session times of current films, use the cinema listings on the Movie links page. For scheduled release dates, see the coming attractions section.

For more information about this movie, check out the internet movie database.
For the latest additions to Festivale, check out the change history section.