A Reel Life film section
Issue: August 2009
2001 A Space Odyssey (1968) movie review
Space Seed

A mysterious monolith is uncovered on the Moon and the investigation points to changes further out in the solar system.
Created from and by one of the great early scientist science fiction writers, Arthur C. Clarke, 2001 is an extraordinary marriage of scientific vision with the cinematic vision of Stanley Kubrick.
Set to a soundtrack of classical music, 2001 is a ground-breaking special effects story. The story combines scientific knowlege and supposition with methaphysics to create an adventure with a baffling ending.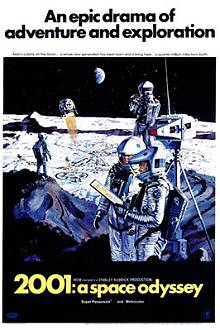 Open the pod bay doors, Hal
,
Bowman's classic request of the artificial intelligence of the questing ship has become a popular quotation.
Beautifully photographed, carefully researched this picture is worth experiencing once, even if it's ultimate message is a confusing mass of symbols.
by Ali Kayn
Australian release 1968
For credits and official site details, see below
Search Festivale for more work by the film-makers below.

See also: 2010

for movie, TV show, or person

Film commentary and upcoming movie release dates at reel-life.info

Just the facts:

Title: 2001 A Space Odyssey (1968)
Written by: Arthur C. Clarke (story The Sentinel), scr); Stanley Kubrick
Directed by: Stanley Kubrick
Running time: varies according to cut, reviewed cut 141 mins
Rating: G

---

The Players: Keir Dullea, Gary Lockwood, Ed Bishop

---

IMDb entry

---

For session times of current films, use the cinema listings on the Movie links page. For scheduled release dates, see the coming attractions section.

For more information about this movie, check out the internet movie database.
For the latest additions to Festivale, check out the change history section.