A Reel Life film section
Issue: Summer 2008-9
The Day the Earth Stood Still (1951) movie review
Strange Visitor to Earth

In the Cold War world of the 1950s a flying saucer lands in Washington, U.S.A. and from it come Klatu, a human-looking extra-terrestrial and his enigmatic, powerful robot.
His efforts to meet all the heads of state on Earth at once, because their petty bickering prevents their agreement, he goes into human society.
Visitor: So long as you are limited to fighting among yourselves ... we were unconcerned ... (but) a threat to the peace and security of other planets .. that of course we cannot tolerate.
Will the strange alien destroy the Earth, or will the winsome young Bobby, the innocently curious professor, and the real nice folks at the boarding house convince him that humans a just as nice as can be, really?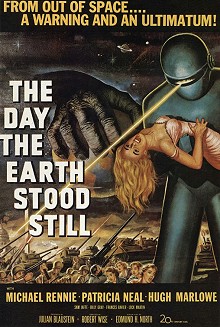 A robot and a man . . . hold the world spellbound with new and startling powers from another planet!
Will the naming of the space man "Mr Carpenter" a titch obvious?
Scientist: I have several thousand questions for you.
It's not all paranoia and shoot-em-till-they-glow. The dialogue has a few sly gems and the soundtrack is moody with a hint of other-worldlyness.
Insurance Salesman: I don't care about the rest of the world. You'll feel different when you see my picture in the paper.
Directed in black and white by Robert Wise, The Day the Earth Stood Still is well worth watching. Although the movie posters are classic SF bodice-ripper-robots posters, the story is thoughtful and played straight by the cast.
Your choice is simple: join us and live in peace, or pursue your present course and face oblitoration. The decision rests with you.
Fifty years on, world "leaders" are still pushing for option 2. 2008's Day the Earth Stood Still replaces the innocent 'pure' Bobby with a war-mongering little hate-nik. We make more colourful films these days, but it's through a lens darkly.
by Ali Kayn
Australian release 1951
For credits and official site details, see below
Search Festivale for more work by the film-makers below.
See also: Day the Earth Stood Still (2008)

for movie, TV show, or person

Film commentary and upcoming movie release dates at reel-life.info

Just the facts:

Title: The Day the Earth Stood Still (1951)
Written by: Edmund H. North (screenplay); Harry Bates (story)
Directed by: Robert Wise
running time:

---

The Players: Michael Rennie, Patricia Neal, Sam Jaffe, Billy Gray, Hugh Marlowe

---

Official website:
IMDb entry

---

For session times of current films, use the cinema listings on the Movie links page. For scheduled release dates, see the coming attractions section.

For more information about this movie, check out the internet movie database.
For the latest additions to Festivale, check out the change history section.