---
---
Ursula Dabrowsky
answers the Usual Questions
Canadian-born Ursula Dabrowsky is an director now based in Australia.
In 1995, Sue released her first self-financed short, the award-winning suspense comedy, Snoop, that was picked up for distribution by the AFI Distribution Branch.
She followed up in 1998 with the SAFC financed short action comedy, Grunt, another award-winning short that screened at numerous international and national short film festivals.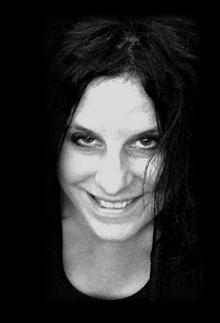 In 2006, she shot her first horror feature, Family Demons, in two weeks with a production budget of $6,500, and spent three years completing it, spending an additional $30,000 under the now defunct 10BA program.
She is currently in postproduction on her next project, Inner Demon, a psychological horror film that received financing through the SAFC's Filmlab program. The $350,000 feature was shot in four weeks in February 2012 and will be released in early 2014.
Ursula is also busy developing, Demonheart, the third instalment of Ursula Dabrowsky's Demon Trilogy in addition to Demon House, an on-line horror game she is developing through the SAFC's Digilab Program with games developer, Dan Thorsland.
Has your interaction with fans, for example, at conventions, affected your work?
So far, the interaction that I have had with fans have happened online on my Facebook page.
I have yet to attend a convention. Living in Australia, it's difficult to get to them. But I have had numerous FB exchanges with people who live overseas who have watched my first horror film, Family Demons, and have contacted me to let me know what that film has meant to them. It hasn't necessarily affected my work but it's been gratifying to hear from people who take the time to write to me and let me know that they really appreciated the film.
Is there any particular incident (a letter, a meeting, a comment that stands out?
Someone sent me a long letter about her difficult upbringing and how watching Family Demons had made her think about that time of her life and how she survived through it.
Do you have a favourite author or book (or writer or film or series) that has influenced you or that you return to?
My favourite writers are Nicci French, Dean Koontz, Harlen Coben. My fav horror films, like my novels, usually revolve around family issues and are made by French, English, and Latin American horror filmmakers, films such as Martyrs, High Tension, A l'interieure, Eden Lake, Silent House, Kidnapped, and Rec. I also am influenced by J and K horror. The television shows I love are Breaking Bad, The Walking Dead and The Sopranos.
Who is the person you would most like to be trapped in a lift with? or a spaceship?
Kathryn Bigelow
Who is the person you would most DISlike to be trapped in a lift with? Or a spaceship?
Madonna
What would you pack for space? (Is there a food, beverage, book, teddy bear, etc that you couldn't do without?)
My partner.
What is the most important thing you would like to get/achieve from your work?
A decent income.
What is the special satisfaction of your work?
Learning from my mistakes.
submitted by Ursula Dabrowsky
11 Sep 2013
For other answers to The Usual Questions Click here
Just the facts:
Born: Montreal, Quebec, Canada
Resides: Adelaide, South Australia
Filmography/Awards: In March 2009, Family Demons held its World Premiere at A Night of Horror International Film Festival in Sydney. The film has since screened at numerous national and international film festivals, picking up awards along the way, and was later sold to IFM Films who have distributed the film in the UK, USA, Australia, South Africa, and South America.
See also, Dabrowsky's Internet Movie Database entry

Web site:
Twitter
Facebook
Facebook: www.facebook.com/innerdemon
IMDB Entry
LinkedIn
Youtube
Vimeo
Pinterest