---
---
Ty Schwamberger
answers the Usual Questions
Ty Schwamberger is an author & editor in the horror genre. He is the author of a novel, multiple novellas, collections and editor on several anthologies. In addition, he's had many short stories published online and in print.
Three stories, Cake Batter (released in 2010), House Call (released in June 2013) and Dinin' (optioned in July 2013), have been optioned for film adaptation. He is an Active Member of the International Thriller Writers.
Has your interaction with fans, for example, at conventions, affected your work?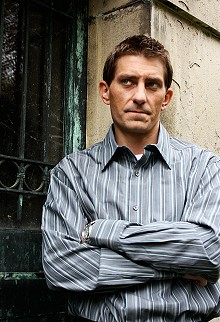 I've been fortunate in the fact those who read my work are extremely loyal and will use part of their hard-earned cash to purchase my books. I have always enjoyed interacting with fans, whether at a convention (which I haven't been in a few years) or a book signing. The people in the horror community (fans, film makers, authors, editors, publishers) are some of the kindest and most sincere folks one could ever meet. I enjoy talking about the craft, my books or just shooting the breeze. Good times all around.
Is there any particular incident (a letter, a meeting, a comment that stands out?
If you've ever been to a speculative fiction convention you know there are some strange birds that go to them. Some dress up like their favorite characters or are simply off their rocker. However, I've never had a negative interaction with someone at a signing or convention. Sure, there have been some that have been annoying, but overall I've never experienced anything but kindness.
Do you have a favourite author or book (or writer or film or series) that has influenced you or that you return to?
Richard Laymon. Anyone who knows me and/or reads my work knows that one.
Who is the person you would most like to be trapped in a lift with? or a spaceship?
How long are we talking here? A few hours, a day, a month...a year? Guess it would depend on what sort of "needs" would need to be met.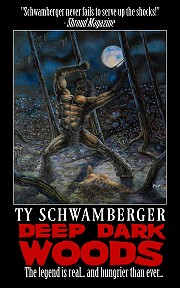 Who is the person you would most DISlike to be trapped in a lift with? Or a spaceship?
Probably 95% of the people who I work with everyday at my 'day job'.
What would you pack for space? (Is there a food, beverage, book, teddy bear, etc that you couldn't do without?)
Diet Coke, Miller Light and a box full of snack cakes. Oh, and condoms. No one wants an alien/human half-breed! Although, I like to think I'd make a pretty cute alien baby.
What is the most important thing you would like to get/achieve from your work?
Being able to quit the 'day job' and write full-time from home.
What is the special satisfaction of your work?
Seeing fans enjoy what I've written.
submitted by Ty Schwamberger
29 July 2014
For other answers to The Usual Questions Click here
Just the facts:
Born: Troy, Ohio, USA.
Resides: A suburb of Akron, Ohio, USA.
Bibliography/Awards:
Too many to list here. I would suggest going to my website and checking out the Published Works & Praise pages.
Web site:
http://tyschwamberger.com

For posts about Melbourne events, places, news, reviews, giveaways, see our Facebook Page: