---
---
Tony Whelpton
answers the Usual Questions
English author Tony Whelpton says, "I'm still writing. Why? Because I can't stop, and I shall go on until I drop. But after many years of writing non-fiction - especially school text books, I now regard myself as a novelist."
Has your interaction with fans, for example, at conventions, affected your work?
Not a great deal, I think, although if I'd had a lot of negative feedback to my first novel I might have had at least second thoughts about writing another two -- given that I was already 79 when the first one was published!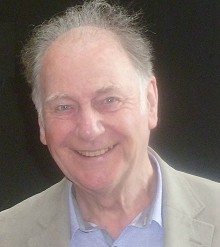 Is there any particular incident (a letter, a meeting, a comment that stands out?
Probably the first review of Billy's War that appeared on Amazon at a time when I was waiting anxiously to find out what readers' reactions would be. It was written by a lady from Tennessee whom I didn't know, and it began "OMG! OMG! OMG! This book of Tony Whelpton's is fabulous!" Fortunately many other readers' reactions have not been dissimilar!
Do you have a favourite author or book (or writer or film or series) that has influenced you or that you return to?
I return fairly regularly to Jane Austen, but I've probably been more influenced by Balzac and Stendhal (I lectured on 19th century French literature for many years).
Who is the person you would most like to be trapped in a lift with? or a spaceship?
Joanna Lumley, especially if she had a few bottles of champers with her.
Who is the person you would most DISlike to be trapped in a lift with? Or a spaceship?
Hannibal Lecter.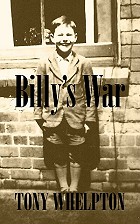 What would you pack for space? (Is there a food, beverage, book, teddy bear, etc that you couldn't do without?)
Whisky, The Bible, Shakespeare, a recording of Bach's Mass in B minor & of Mozart's Requiem, and, if I couldn't have my wife Joan with me, my cats Fifi and Gigi.
What is the most important thing you would like to get/achieve from your work?
A realisation that my writing has made somebody happy or sad, laugh or cry.
What is the special satisfaction of your work?
That I've lived long enough to have found out what I should have spent my life doing, and have been able to write so much since I made the discovery. Obviously the hope goes on and, with luck and good health, so will the writing...
submitted by Tony Whelpton
28 August 2014
For other answers to The Usual Questions Click here
Just the facts:
Born: Nottingham, England, 1933
Resides: Cheltenham, England
Bibliography/Awards:
Before the Swallow Dares (2012), The Heat of the Kitchen (2013), Billy's War (2014) - and thirty or so school and college textbooks written in an earlier existence and which pale into insignificance beside Billy's War.
Web site:
www.tony-whelpton.co.uk
Twitter name: @SwallowDares

For posts about Melbourne events, places, news, reviews, giveaways, see our Facebook Page: