---
---
Tania McCartney
answers the Usual Questions
Tania McCartney writes for both adults and children, and has been shortlisted and awarded for both published and unpublished works. An experienced magazine writer and editor, she has been writing professionally for over 25 years, and is the founder of both Kids' Book Review (the number one children's literature site on the web) and the 52-Week Illustration Challenge, which will be exhibiting publicly in Perth, March 2015. She also has many years' experience in book layout, design and publishing, and has recently reignited her love of illustration.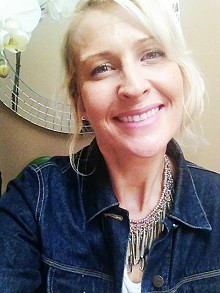 An ACT Ambassador for the National Year of Reading (2012), a The Reading Hour Friend and ACT Reading Champion, Tania is passionate about literacy and has spent many years presenting and speaking to children and adults on reading, books and writing. Tania adores books, travel and photography. She lives in Canberra with her husband and two kids, in a paper house at the base of a book mountain.
Has your interaction with fans, for example, at conventions, affected your work?
Absolutely. Audience response is priceless and it's what drives me to create -- to enlighten, educate or simply entertain kids--it's everything.
Is there any particular incident (a letter, a meeting, a comment that stands out?
A letter from the Australian Governor-General Quentin Bryce, saying how much she liked my books was pretty special, but it's the everyday letters from schoolkids that capture my heart. Sometimes I receive a pack of letters from every child in a single class, along with drawings and poems and stories -- it really is overwhelming and I keep every single one. When it comes to my illustrating, I recently had someone offer to buy one of my 52-Week Challenge artworks and I was stunned. When asked why she wanted to buy, she simply said "because it brings me joy". What more could you ask for?
Do you have a favourite author or book (or writer or film or series) that has influenced you or that you return to?
So many! In the adult world, I adore the writings of AA Gill, Jackie French and Bill Bryson (among countless others). In the kid world, I find myself returning to Miroslav Sasek, Odo Hirsch, Jackie French, Lane Smith and Bob Graham.
Who is the person you would most like to be trapped in a lift with? or a spaceship?
Oooh -- a spaceship, please, with time-travel capacity so I can be trapped with Dr Seuss, Jon Scieszka, Bruce Whatley, Lane Smith, Emily Gravett, Gus Gordon, Alain Grée, Margaret Wise Brown and other divine illustrators. With Roald Dahl and Enid Blyton thrown in, just to mix things up a little.
Who is the person you would most DISlike to be trapped in a lift with? Or a spaceship?
Anyone who hasn't yet re-harnessed their childhood creativity.
What would you pack for space? (Is there a food, beverage, book, teddy bear, etc that you couldn't do without?)
Computer, notebooks, paint brushes, watercolour, pencils, and a shipping container full of books, from adult non-fiction and biography through to picture books. No need for food or water. The aforementioned would fully sustain me.
What is the most important thing you would like to get/achieve from your work?
My goal is to both honour myself by doing what I love, and honour my readers by enriching their world in some way, whether it be life-changing (perhaps through the magic of literacy) or as simple as recalling a childhood memory.
What is the special satisfaction of your work?
Utter pleasure. Joy. Happiness. A return to my childhood creativity (ie: the self).
submitted by Tania McCartney
18 July 2014
For other answers to The Usual Questions Click here
Just the facts:
Born: Hobart, Tasmania, 19 February (in the 1960s, when everything was in black and white)
Resides: Canberra, Australia
Bibliography/Awards:
Tania's latest books include An Aussie Year: Twelve months in the life of Australian Kids, Tottie and Dot and This is Captain Cook (out March 2015). Riley and the Jumpy Kangaroo recently won an award for Outstanding Picture Book in the University of Canberra's Get Real Book Awards.
Web site:

For posts about Melbourne events, places, news, reviews, giveaways, see our Facebook Page: