---
---
T. E. Grau
answers the Usual Questions
T. E. Grau
T.E. Grau is an American author of dark fiction.
Has your interaction with fans, for example, at conventions, affected your work?
I don't attend many conventions, and would never assume that I have any fans. But, reader feedback received through social media, blogs, review sites, and from fellow authors has been wonderful so far, and is encouraging. No one wants to feel like the product of their labors is not achieving the desired result, which for me is entertaining readers, and hopefully depositing something cool, or terrifying, or thought provoking, or wondrous into their minds.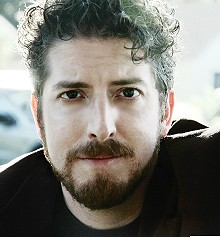 Writing is really about sharing the privately internal with the public external, so positive reactions to that personal offering of one's imagination to the world makes it all worthwhile.
Is there any particular incident (a letter, a meeting, a comment that stands out?
Nothing in particular, aside from getting e-mails/message from authors I very much admire that have included kind appraisals of my stories. Similarly, I did have a publisher drop me a message a few years back letting me know that a certain bearded British creative shaman/writer of comic books and dark fiction very much dug one of my stories. That was pretty damn surreal, and quite exciting.
Do you have a favourite author or book (or writer or film or series) that has influenced you or that you return to?
My favorite author is Hunter S. Thompson, and I return to his work every few years for deep immersion therapy, or when I've gone too far afield in my reading or writing. His dark societal satire, wicked turn of phrase, and dips into madness help keep me stylistically centered. Fear and Loathing in Las Vegas blew off the top of my head in my early 20's, and I've never recovered.
HST, the Beats, and the cosmic horror concepts of H.P. Lovecraft are probably my greatest influences. When I work on a Noir piece, I want to be Lawrence Block, but never will be, so I settle for a mouthier, more purple version of his style.
Who is the person you would most like to be trapped in a lift with? or a spaceship?
My wife, Ives Hovanessian.
Who is the person you would most DISlike to be trapped in a lift with? Or a spaceship?
A religious zealot, or a conspiracy theorist, or a hard-charging sales weirdo, who can often be the same person. In fact, they usually are.
What would you pack for space? (Is there a food, beverage, book, teddy bear, etc that you couldn't do without?)
I'd pack my wife and child, as those are things I can't do without. They are both rather small, so I'd still have room for pens and paper, so all three of us could draw, write, and play Hangman while waiting to arrive on Uranus, which is my daughter's favorite planet. We'd have to pick up some winter coats and maybe some retro Moon Boots before we left, as it would be a bit chilly when we arrived.
What is the most important thing you would like to get/achieve from your work?
A contribution to the written word, which has amazed and filled me with wonder since I could put two words together. That, and to write stories that people enjoy, find entertaining, cool, or even unsettling. To share the wonder that I feel and see in my head when contemplating these worlds, these people, these things that we create from the electricity of our brains. I just want to write stuff that people dig.
What is the special satisfaction of your work?
That I get to create something that becomes real not only in my mind, but in the minds and imaginations of those who read my work. Leaving behind my real estate, for better or worse.
submitted by T. E. Grau
23 August 2014
For other answers to The Usual Questions Click here
Just the facts:
Born: January 8, 1972 in a hospital in beautiful Nevada, Iowa. My parents, brother, and sister were living in nearby Ames while my dad finished college.
Resides: I currently live in Los Angeles, California.
Bibliography/Awards:
My work has been featured in over a dozen anthologies, including In the Court of the Yellow King, The Children of Old Leech, Tales of Jack the Ripper, The Best of The Horror Society 2013, Dark Fusions: Where Monsters Lurk, Suction Cup Dreams: An Octopus Anthology, Mark of the Beast, World War Cthulhu, The Dark Rites of Cthulhu, Urban Cthulhu: Nightmare Cities, Dead But Dreaming 2, The Aklonomicon, and Horror for the Holidays, among others; and such magazines, literary journals, and audio platforms as LA Weekly, The Fog Horn, Lore, Tales To Terrify, The Teeming Brain, Eschatology Journal, and Lovecraft eZine. My limited edition novelette The Mission from Dynatox Ministries/Dunhams Manor Press was released in August of 2014, and my second Dynatox chapbook, The Lost Aklo Stories, is slated for release in September of 2014. In the editorial realm, I currently serve as Fiction Editor of Strange Aeons magazine.
Web site:
cosmicomicon.blogspot.com

For posts about Melbourne events, places, news, reviews, giveaways, see our Facebook Page: