---
---
S. S. Michaels
answers the Usual Questions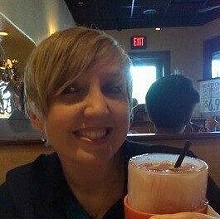 S. S. Michaels is a writer of horror and magic realism. She has lived abroad, traveled widely, jumped out of an airplane and driven a race car. She has worked in film and television, read slush & written coverage on film scripts, worked as a production coordinator, and served as a TV network financial analyst.
Has your interaction with fans, for example, at conventions, affected your work?
I don't believe my reviews, particularly the good ones. I write books that I would like to read, but I am over the moon when anyone says they enjoy my work.
Is there any particular incident (a letter, a meeting, a comment that stands out?
My biggest fan moved half-way across the country and asked me to marry him - that's pretty cool.
Do you have a favourite author or book (or writer or film or series) that has influenced you or that you return to?
I've enjoyed writing all my life, but what spurred me to write a novel after a long, long break from writing, and from reading for fun, was picking up Stephen King's Lisey's Story and reading the line: "I will holler you home." Like many, I was raised on King and he did holler me home. Other influences: Chuck Palahniuk, Bret Easton Ellis, Neil Gaiman, Clive Barker, Joseph Campbell, Quentin Tarantino, David Lynch, Ridley Scott, plus newer voices of friends like S. G. Browne, Doug Wynne, Bill Breedlove, and, of course, my amazingly talented (and outrageously gorgeous) husband, Peter Giglio.
Who is the person you would most like to be trapped in a lift with? or a spaceship?
I am extremely fearful of lifts. And spaceships. Probably someone with a large supply of Ativan.
Who is the person you would most DISlike to be trapped in a lift with? Or a spaceship?
I am extremely fearful of lifts. And spaceships. Anyone without anti-anxiety drugs.
What would you pack for space? (Is there a food, beverage, book, teddy bear, etc that you couldn't do without?)
Cadbury Flake bars. My "Cars" blanket.
What is the most important thing you would like to get/achieve from your work?
Assurance that my experience and education hasn't been a waste.
What is the special satisfaction of your work?
As a ten year-old, I wrote in a school autobiography that I wanted to be a writer. And I am.
submitted by S. S. Michaels
18 August 2014
For other answers to The Usual Questions Click here
Just the facts:
Born: Milwaukee, Wisconsin, USA.
Resides: Savannah, Georgia, USA. (Previously resided in: New Orleans, Philadelphia, Boston, Los Angeles, Seattle, Grand Rapids, Baltimore, and Moscow, Russia.)
Bibliography/Awards:
Idols & Cons, Revival House, Bleed, Attic Toys. No awards. Yet.

Web site:
shannongiglio.wordpress.com

For posts about Melbourne events, places, news, reviews, giveaways, see our Facebook Page: