---
---
Selena Robins
answers the Usual Questions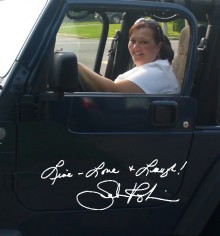 Selena Robins is a self-professed chocolate guru who loves to dance with her dog as if she were on the Jersey Shore, and sing into her hairbrush. After giving up her dream of becoming a movie star/dancer/singer, she decided that her second-in-line dream was to be a writer.
Witty, humorous, suspenseful, sexy, genre defying--words used to describe her romance novels, featuring sassy, strong heroines and lovable heroes who have a bumpy, twisty road to their happy-ever-after.
Selena continues her passion for happily-ever-after in her life (okay, some days she's sitting in first class on the Frazzled Express...but still), passionately in love with her family, friends, books, laughter, hockey, lively discussions, chocolate and red wine.
Selena also writes children's books under the pen name, Maddie Ryan.
Has your interaction with fans, for example, at conventions, affected your work?
I haven't been to a convention in a long time, so I would say not at this time.
Is there any particular incident (a letter, a meeting, a comment that stands out?
It's always wonderful any time a reader gives me feedback about one of my stories or a blog post.
There is one particular incident that has stayed with me for a long time. A few years ago, a magazine published one of my comedic short stories. A woman wrote to me to say while she was reading it she was laughing so loud, her husband wanted to know what she was laughing about. She gave him the magazine and insisted he read the story. He laughed out loud for the first time that she could remember, and it brought her tears of joy. Her husband had sunk into a depression after he suffered an accident and was a paraplegic, so shared laughter was rare and she treasured that moment.
Do you have a favourite author or book (or writer or film or series) that has influenced you or that you return to?
As a child, my favorite author was Lucy Maud Montgomery (Anne of Green Gables) and E.B. White (Stuart Little, Charlotte's Web). I think in some way these authors influenced my own writing journey. I've also read everything by Mario Puzo, Joy Fielding, Margaret Atwood and Christopher Moore. All these writers have different styles and voices which is what I love, as I am an eclectic reader and writer. When I need inspiration, I return to these books.
Who is the person you would most like to be trapped in a lift with? or a spaceship?
I dislike flying in an airplane so I can't even imagine being trapped in a spaceship. I don't do well in enclosed spaces (I'd rather climb stairs than take an elevator). However, if in an alternate universe I find myself in this predicament, there is only person who would be able to calm me, and the one person that would make it enjoyable to be trapped with -- my husband. He's also skilled enough that he'd be able to get us out of there.
Who is the person you would most DISlike to be trapped in a lift with? Or a spaceship?
A politician.
What would you pack for space? (Is there a food, beverage, book, teddy bear, etc that you couldn't do without?)
I couldn't think of food or drink when I'm shot into space. Whoever stuck me in there, better pump me up with some sort of sleeping inducing chocolate.
What is the most important thing you would like to get/achieve from your work?
To always enjoy writing, improve with each book and have readers come back for more.
What is the special satisfaction of your work?
When I re-read something I've written and think, "Damn, that's good."
submitted by Selena Robins
4 August 2014
For other answers to The Usual Questions Click here
Web site:
Web site: SelenaRobins.com
Blog: SelenaRobinsMusings.com
Facebook
Twitter: @SelenaRobins


For posts about Melbourne events, places, news, reviews, giveaways, see our Facebook Page: