---
---
Rocky Wood
answers the Usual Questions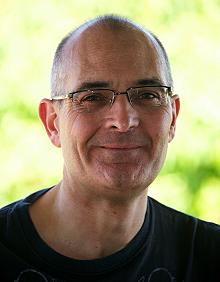 What do Stephen King and Eric Von Danekin have in common? Rocky Wood.
Wood, New Zealand-born but living in Melbourne, Australia has written about horror in general and Stephen King in particular, and on UFOs and extra-terrestrial life. He is president of the Horror Writers Association.
Has your interaction with fans, for example, at conventions, affected your work?
It is always good to interact with readers, it validates the hard work I put into my work
Is there any particular incident (a letter, a meeting, a comment that stands out?
Not really, I do particularly appreciate when readers tell me they use my works on Stephen King to assist with their appreciation of the master's work!
Do you have a favourite author or book (or writer or film or series) that has influenced you or that you return to?
Clearly, Stephen King!
Who is the person you would most like to be trapped in a lift with? or a spaceship?
Elevator - Stephen King (as long as I had my notebook). Spaceship - someone who knew more than I about survival in those circumstances!
Who is the person you would most DISlike to be trapped in a lift with? Or a spaceship?
Hannibal Lecter!
What would you pack for space? (Is there a food, beverage, book, teddy bear, etc that you couldn't do without?)
A bunch of Kindles filled with my favorite books and those I have yet to read. Oh, and the Kindle charger!
What is the most important thing you would like to get/achieve from your work?
The sense of achievement -- in my case for the Stephen King work that means bringing new information to light.
What is the special satisfaction of your work?
Writing is a joy in itself, a form of relaxation
submitted by Rocky Wood
6 September 2013
For other answers to The Usual Questions click here
Just the facts:
Born: Wellington, New Zealand
Resides: Melbourne, Australia
Bibliography/Awards:
The Complete Guide to the Works of Stephen King (Kanrock Partners, ISBN: 0-9750593-3-5, 2004)

Stephen King: Uncollected, Unpublished (eBook Third Edition, Cemetery Dance, ASIN: B005C6CISO, 2012)

Stephen King: Uncollected, Unpublished (paperback Fourth Edition, Overlook Connection Press, ISBN: 978-1892950963, 2012)

Stephen King: The Non-Fiction (eBook, Cemetery Dance ASIN: B005C6CI7U, 2012)

Stephen King: A Literary Companion (McFarland, ISBN: 978-0786458509, 2012)

Horrors! Great Stories of Fear and Their Creators (McFarland, ISBN 978-0786445639, 2010). Illustrated by Glenn Chadbourne

Witch Hunts: A Graphic History of the Burning Times with Lisa Morton (McFarland, 978-0786466559, 2012). Illustrated by Greg Chapman

---
2011 Bram Stoker Award®for Superior Achievement in Non-Fiction, Stephen King: The Literary Companion
2012 Bram Stoker Award for Superior Achievement in a Graphic Novel - Witch Hunts! A Graphic History of the Burning Times
Web site: www.rockywoodauthor.com


For posts about Melbourne events, places, news, reviews, giveaways, see our Facebook Page: