---
---
Richard Lee Byers
answers the Usual Questions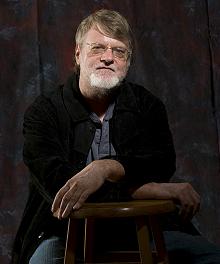 Has your interaction with fans, for example, at conventions, affected your work?
I don't know that it's affected the content, but it's certainly had a positive effect on my morale. So perhaps if I hadn't had the chance to interact with fans, I would not have produced as much work.
Is there any particular incident (a letter, a meeting, a comment that stands out?
On several occasions, I've heard from or heard about servicemen in Afghanistan and Iraq who were passing my novels around. I'm very glad my books provided those guys with some entertainment.
Do you have a favourite author or book (or writer or film or series) that has influenced you or that you return to?
When I was a kid, I fell in love with the novels of Edgar Rice Burroughs. They were the path that led me into the genre of the fantastic. So it may be that I'm most indebted to him.
But like many writers, I have a long, long list of influences. Fritz Leiber is one that invariably springs to mind. He wrote superbly and contributed wonderful stories to all three subdivisions of the fantastic, science fiction, fantasy, and horror. You can't do better than that.
I don't think I write much like H. P. Lovecraft. But I've done so many stories that draw on his themes and ideas that he too qualifies as a major influence.
Who is the person you would most like to be trapped in a lift with? or a spaceship?
It depends how long I'm going to be trapped. If it's just for a couple hours, I'll go with Mark Twain. (Or if he's unavailable, Oscar Wilde or Groucho Marx.) If we're talking about years aboard a spaceship, then I'll take Nell Gwyn.
Who is the person you would most DISlike to be trapped in a lift with? Or a spaceship?
With regard to the lift, this is a tough question. There are many people I would fear and/or despise, guys like John Wayne Gacy and Hitler, but if I knew they wouldn't hurt me and we could simply talk honestly, that could be fascinating. I'm pretty sure their company would get old on a voyage through the galaxy, though.
What would you pack for space? (Is there a food, beverage, book, teddy bear, etc that you couldn't do without?)
If the ship has artificial gravity, or if I'm going to end up on a planet, I'll want fencing equipment.
What is the most important thing you would like to get/achieve from your work?
I want to make a good living entertaining people.
What is the special satisfaction of your work?
There are days when working on a story is a lot of fun. There are also occasions when it's plain to me that something has turned out well or when readers tell me they greatly enjoyed a particular story. Those moments are extremely gratifying.
submitted by Richard Lee Byers
12 September 2013
For other answers to The Usual Questions Click here
Just the facts:
Born: Columbus, Ohio. USA, September 21, 1950.
Resides: Plant City, FL, USA.
Bibliography/Awards: His books include Dark Kingdoms (includes The Ebon Mask and completes the story that novel began) Netherworld, On A Darkling Plain, Forsaken, Forsworn, Forbidden, The Q Word and Other Stories, The Shattered Mask, Queen of the Depths, The Rage, The Rite, The Ruin, The Year of Rogue Dragons (collects The Rage, The Rite, and The Ruin plus two bonus stories)
The Spectral Blaze won "Best RPG Based Fiction" in Diehard GameFAN's 2011 Tabletop Gaming Awards.
Web site: Blog Facebook: Richard Lee Byers
Twitter: @rleebyers
I write a monthly feature ("Astrojive") for the SF news site Airlock Alpha.

For posts about Melbourne events, places, news, reviews, giveaways, see our Facebook Page: