---
---
Richard Dean Starr
answers the Usual Questions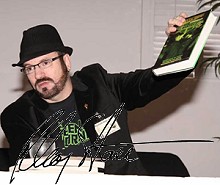 Richard Dean Starr has written and/or edited more than two-hundred articles, columns, stories, books and graphic novels, and his work has been published in magazines and newspapers as diverse as Starlog, Twilight Zone, Science Fiction Chronicle and The Tribune-Georgian, among others.
In fiction, he has written for such world-famous characters as Hellboy, Zorro, The Lone Ranger, Kolchak: The Night Stalker, The Phantom, and The Green Hornet, just to name a few.
Has your interaction with fans, for example, at conventions, affected your work?
It's encouraging to meet readers and hear that they appreciate the work. So in that sense, I suppose it makes it that much easier to sit down at the keyboard and finish a project once I'm back in the office. I also get told about new books I should read, or source material that I might find of use, and that's always very cool.
Is there any particular incident (a letter, a meeting, a comment that stands out?
I received a letter from some very nice people in the northeast a couple of years ago. They had survived a particularly destructive hurricane and wrote to say how much my work had helped distract them from all the things that were happening to them at the time. I was fairly amazed by that, and immensely grateful to have received their letter.
Do you have a favourite author or book (or writer or film or series) that has influenced you or that you return to?
Obviously, there are a lot of writers who have influenced me: Tim Powers, Philip K. Dick, James M. Cain, Harlan Ellison, Robert A. Heinlein, Alistair MacLean, Edgar Rice Burroughs. But one person in particular stands out for me: Dean Koontz. After reading his novel, Strangers, back in 1986, I was just blown away by the quality of his prose. I still think he's one of the best prose stylists working today.
Who is the person you would most like to be trapped in a lift with? or a spaceship?
Steven Spielberg. I think he'd approach it with a sense of wonder and humor (the spaceship, not the elevator; he'd probably hate the elevator as much as I would).
Who is the person you would most DISlike to be trapped in a lift with? Or a spaceship?
Rush Limbaugh. Although I'd be glad to see him take the spaceship on his own, hopefully for a long trip.
What would you pack for space? (Is there a food, beverage, book, teddy bear, etc that you couldn't do without?)
Probably books, food, and lots of iced tea. Can't go wrong with those.
What is the most important thing you would like to get/achieve from your work?
I'd like the work to survive me, of course. I think almost all writers want that. Thanks to my association with characters like Zorro and Hellboy, there is a reasonable chance of that, I think. I'd also like people to recognize that I respected the language, that I cared about the job of writing professionally, and that entertaining people was genuinely important to me.
What is the special satisfaction of your work?
Starting it...and finishing it. A lot of people assume it's getting physical copies of the published work, but it's not, at least not for me. By the time the books show up in the mail it's kind of anti-climactic, because I've already worked on multiple new projects since I turned in the manuscript.
submitted by Richard Dean Starr
20 August 2014
For other answers to The Usual Questions Click here
Just the facts:
Born: In Los Angeles, sometime between the birth of Samuel Adams and the end of the Vietnam War.
Resides: A suburb of Los Angeles, California, not far from the place where Clayton Moore's Lone Ranger once reared his mighty stallion, Silver, in front of the now-famous "Lone Ranger Rock".
Bibliography/Awards:
One of his original stories, "Fear Itself", was published in the 2005 Stephen King Halloween issue of Cemetery Dance magazine, which remained in print for nearly six years. He is currently at work on a novel, The Hurricane Key, as well as the next two volumes in the Sherlock Holmes: Crossovers Casebook series of anthologies. He is also the co-founder and Chief Executive Officer of Ereading.com.
Web site:
www.RichardDeanStarr.com
Facebook
www.Ereading.com


For posts about Melbourne events, places, news, reviews, giveaways, see our Facebook Page: