---
---
Rebecca Cantrell
answers the Usual Questions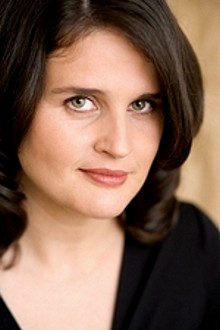 A few years ago Rebecca Cantrell quit her job, sold her house, and moved to Hawaii to write a novel because, at seven, she decided that she would be a writer.
Fluent in German, she received her high school diploma from the John F. Kennedy Schule in Berlin and studied at the Freie Universität in Berlin and the Georg August Universität in Göttingen before graduating from Carnegie Mellon University. She currently lives in Germany with her family.
Has your interaction with fans, for example, at conventions, affected your work?
I'm always thrilled to meet fans and hear how they view the books. I feel a great obligation to my readers and meeting them reminds me that I need to work hard to give them the best books I can.
Is there any particular incident (a letter, a meeting, a comment that stands out?
A librarian wrote an article about my novel, iDrakula, saying that a teenager came into the library with it and said it was the first book that she'd finished since first grade and asking for more books. I emailed the librarian and asked if the kid was still reading and found out that she was.
Do you have a favourite author or book (or writer or film or series) that has influenced you or that you return to?
Too many to count. It depends on my mood or the day. Right now I'm reading Stephen King's Salem's Lot, which reminds me of his novel The Shining and how much that scared me and that leads on to other vampire books like The Twelve and The Passage and when does the next one come out.
Who is the person you would most like to be trapped in a lift with? or a spaceship?
A spaceship? Han Solo, of course! Or Malcolm Reynolds from Firefly.
Who is the person you would most DISlike to be trapped in a lift with? Or a spaceship?
Once again, a spaceship and Darth Vader -- that guy is never any fun.
What would you pack for space? (Is there a food, beverage, book, teddy bear, etc that you couldn't do without?)
A notebook and pen so I could write. Plus a lot of chocolate in case they don't have that on the planets we're going to.
What is the most important thing you would like to get/achieve from your work?
I'd like to take readers to places they've never been and introduce them to characters they've never met.
What is the special satisfaction of your work?
I love writing -- sitting there watching the characters come to life on the page.
submitted by Rebecca Cantrell
21 July 2014
For other answers to The Usual Questions Click here
Just the facts:
Born: Ohio.
Resides: Berlin, Germany.
Bibliography/Awards:
Won: International Thriller Writers Best Ebook Original award, Macavity award, Bruce Alexander award, Top 10 Booklist YA Horror, Best Halloween App, Best YALSA Horror.
Nominated for: Goodreads choice award (horror), RT Best Historical, Barry, Mary Higgins Clark, APPY
Books:
Hannah Vogel series: A Trace of Smoke, A Night of Long Knives, A Game of Lies, A City of Broken Glass. iMonster series: iDrakula, iFrankenstein. Order of the Sanguines series: The Blood Gospel, Innocent Blood, City of Screams, Blood Brothers. Joe Tesla series: The World Beneath

Web site:
www.rebeccacantrell.com
Facebook
Twitter: @rebeccacantrell
google+


For posts about Melbourne events, places, news, reviews, giveaways, see our Facebook Page: