---
---
Phil Nork
answers the Usual Questions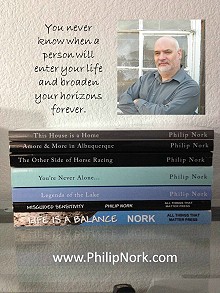 Phil Nork mixes work with his love of writing. In addition to writing, Phil is a baseball card collector, an avid reader, and enjoys listening to the music of his youth, especially Rod Stewart and Air Supply.
Has your interaction with fans, for example, at conventions, affected your work?
Of course it has. I work for a major retailer in the U.S. and have to visit 5 different states regularly. Whenever I walk into a location I haven't been to in a while I get the royal treatment from them which means I have to explain why to the customers.
Is there any particular incident (a letter, a meeting, a comment that stands out?
I was in a Starbucks in St. George, Utah and the lady in line next to me was holding a copy of my first book. She dropped it as she was paying and when I handed it back to her back cover side up she saw my picture and gasped. I paid for her drink and then proceeded to sit with her and also autographed her book.
Do you have a favourite author or book (or writer or film or series) that has influenced you or that you return to?
I actually wrote the outline for my first book after watching the movie Grease in a hotel room in Prescott, Arizona. The movie holds many memories for me and I always catch it when I can.
Who is the person you would most like to be trapped in a lift with? or a spaceship?
Ellen Degeneres. I think she would keep it fun not to mention I could pitch my books to her.
Who is the person you would most DISlike to be trapped in a lift with? Or a spaceship?
Any politician at all.
What would you pack for space? (Is there a food, beverage, book, teddy bear, etc that you couldn't do without?)
Iced green tea and cashews.
What is the most important thing you would like to get/achieve from your work?
To help people realize the theme of all of my books actually happens. That theme is that you never know when a person will enter your life and broaden your horizons forever.
What is the special satisfaction of your work?
That my words have helped my readers open their minds, think about others and have reactions, good or bad, to my words.
submitted by Phil Nork
28 August 2014
For other answers to The Usual Questions Click here
Just the facts:
Born: In Chicago, Illinois USA
Resides: Henderson, Nevada USA just a hop and a skip away from the Las Vegas strip
Bibliography/Awards:
Misguided Sensitivity awarded the Gold Standard of Literary Excellence by The Princeton Review.
Life is a Balance, it isn't only about you awarded the Gold Standard of Literary Excellence by the Princeton Review.
Legends of the Lake, #1 Amazon category bestseller.
This House is a Home, #1 Amazon category bestseller.
The Other Side of Horse Racing, #1 Amazon category bestseller.

Web site:
www.PhilipNork.com
Facebook


For posts about Melbourne events, places, news, reviews, giveaways, see our Facebook Page: