---
---
Peter Mark May
answers the Usual Questions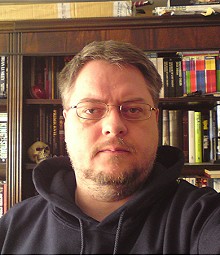 British author Peter Mark May runs Hersham Horror Books and is co-founder of Karoshi Books.
Has your interaction with fans, for example, at conventions, affected your work?
Shock that anyone knows who I am firstly or secondly have read anything I've done. But there are people who've bought everything I've done and I've given them free books as a reward for their suffering. Always very humbling to know people like what you've done.
Is there any particular incident (a letter, a meeting, a comment that stands out?
I've been mulling over a sequel to one of my novels, I wasn't sure about it but that same week I got emails/messages from four people who liked the first book and said they wanted more.
Do you have a favourite author or book (or writer or film or series) that has influenced you or that you return to?
So many; M.R.James's ghost stories, William Hope Hodgson's The House on the Borderland, Stephen King's It and Salem's Lot, Brian Lumley Necroscope series & F.Paul Wilson's The Keep and Repairman Jack series of books.
Who is the person you would most like to be trapped in a lift with? or a spaceship?
Peter Straub, or Kate Upson maybe?
Who is the person you would most DISlike to be trapped in a lift with? Or a spaceship?
Tony Blair - the devil in human form
What would you pack for space? (Is there a food, beverage, book, teddy bear, etc that you couldn't do without?)
Marmite, Real Ale and lots and lots of Books from my huge reading mountains.
What is the most important thing you would like to get/achieve from your work?
I've already achieved certain goals, from back when I started out getting published. Then your goals moved, you get the bug and want to do better, writer smarter, get your work liked by more people.
What is the special satisfaction of your work?
Writing has kept me going when life has left me at a low ebb. The lonely hours of typing away, editing and worrying if it is all worth the effort, is balanced by holding one of your own books in your hand.
submitted by Peter Mark May
4 August 2014
For other answers to The Usual Questions Click here
Just the facts:
Born: Walton-on-Thames, Surrey. England UK
Resides: Hersham, Surrey, England UK.
Bibliography/Awards:
He is the author of Demon, Kumiho, Inheritance [P. M. May], Dark Waters (novella), Hedge End and AZ: Anno Zombie [Samhain]. He also runs Hersham Horror Books publishing six anthologies so far (editing three himself: Alt-Dead, Alt-Zombie and Fogbound from 5) and has somehow found the time to co-found Karoshi Books with Johnny Mains and Cathy Hurren.
He's had short stories published in genre Canadian & US magazines and the UK & US anthologies of horror such as Creature Feature, Watch, the British Fantasy Society's 40th Anniversary anthology Full Fathom Forty, Alt-Zombie, Fogbound From 5, Nightfalls, Demons & Devilry, Miseria's Chorale, Western Legends The Bestiarum Vocabulum and Kneeling in the Silver Light Alchemy Press.

Web site:
petermarkmay.weebly.com
Facebook

For posts about Melbourne events, places, news, reviews, giveaways, see our Facebook Page: